Protecting the quality of local recreational water
Community and Public Health is involved with the quality of coastal waters and freshwater waterways which are used for a range of recreational activities such as swimming, sailing, boating, surfing, water skiing, underwater diving and shellfish gathering.
The quality of recreational water is an important environmental health and resource management issue.
Health Risks Associated with Contaminated Water
Water can be contaminated by human or animal excreta (poo) containing disease causing micro-organisms such as viruses, bacteria and protozoa.
Contamination poses a health hazard when the water is used for recreational activities such as swimming and other high contact water sports.
There is a risk that water will be swallowed, inhaled or come into contact with ears, nasal passages, mucous membranes or cuts in the skin, allowing pathogens or algal toxins to enter the body.
High levels of contamination can often occur after heavy rainfall. So people should avoid all rivers and beaches for at least two days after heavy rain.
The symptoms of exposure to contaminated water are usually minor and short lived. However there is the potential for more serious diseases including hepatitis A, giardiasis and cryptosporidiosis.
The best spots for water recreation this summer
Environment Canterbury's contact recreation report is now available. Take a look and find out where will be good for swimming this summer.
The report grades 100 of Canterbury's most popular swimming spots to show their suitability for swimming and recreation. Grades are determined by five years' worth of water monitoring and sanitary survey data collected at each site.
Environment Canterbury provides this information to local health authorities and district councils so they can take the appropriate public health measures at each location. This includes signage and alerting community groups who commonly use the site.
Make sure you check out the Can I Swim Here? information on LAWA if you are thinking of getting into the water over summer.
"No changes in long-term grades have occurred at Lyttelton Harbour/Whakaraupō this year. This means the only spots deemed suitable for swimming are Paradise Beach – which holds a good grade – and Church and Cass Bays which both remain fair" said Shirley Hayward, surface water science team leader.
Swimming is not recommended at five sites across the South Canterbury region:
Near the stormwater outlet "Whale Creek" at West Caroline Bay;
Pareora River at Evan's Crossing;
Pareora River at Pareora Huts;
Ewarts Corner boat ramp at Lake Opuha; and
Waihao River at Black Hole.
Monitoring for the 2023-2024 summer season begins in late November.
Swimming at any recreational site is not recommended within 48 hours after rainfall – regardless of the site's grade. Rain can wash contaminants from roofs, land, drains and streams into waterways, making them temporarily unsafe for swimming.
Health Risks associated with Algal Blooms
Algal blooms are appearing more frequently in our waterways. Algal blooms in lakes can be blue/green in colour floating on the surface or colourless globules suspended in the water.
Algal blooms are also found in rivers as blackish benthic mat-forming cyanobacteria clinging to rocks or collecting at the riverbank. Some cyanobacteria species produce toxins.
Symptoms of exposure to toxic algae can range from allergic reactions, asthma, eye irritations, and rashes to rapid onset of nausea and diarrhoea to gastroenteritis to other specific effects such as liver damage and possibly developing cancers.
Lake Hood interventions under way to improve water quality
Ashburton District Council media release: 4th September 2023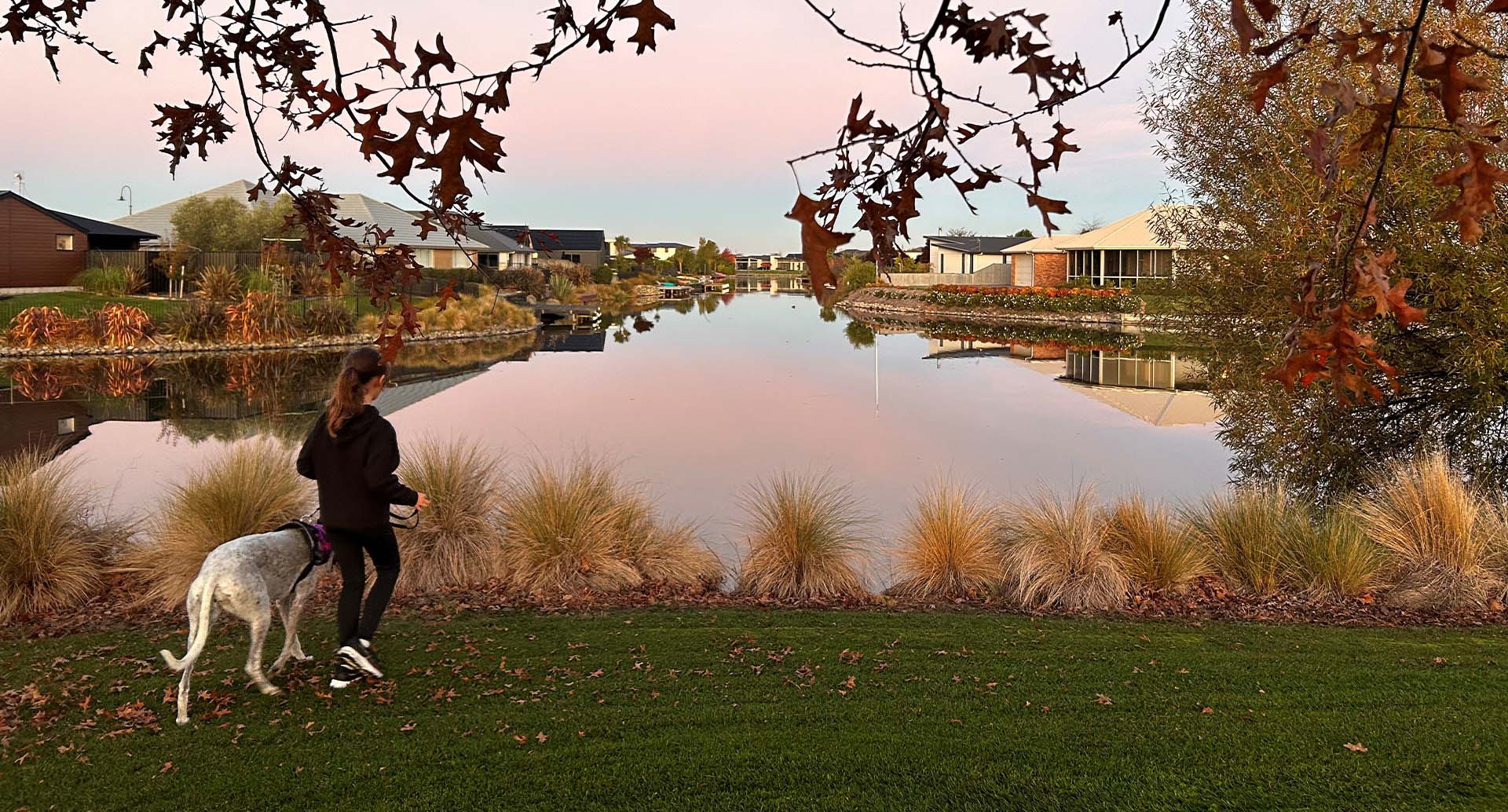 Proactively getting ahead of algal blooms has prompted the formation of the Lake Hood Water Quality Taskforce.
Representatives from Ashburton Aquatic Park Charitable Trust, the Huntingdon Park Property Owners Association, Lake Hood Extension Project and Ashburton District Council have come together to improve water quality at the lake. This follows a one-off algae bloom at the lake in March.
The taskforce has commissioned scientific expertise to better understand nutrient sources, water flows and weather conditions that encourage algae growth.
Lake Hood Water Quality Taskforce chairman David West says the aim is to prevent further algal blooms from forming, and ways to disperse algae quickly and safely if blooms form.
"We want to make sure Lake Hood remains a premier recreational destination for visitors and locals. Algae blooms in lakes are becoming more prevalent worldwide. The taskforce wants to be proactive and act early so we won't see a repeat this summer."
The taskforce's scientific expertise complements interventions already in place like aeration of the canals using technology sourced from Opuha Water Ltd. The taskforce installed six aeration diffusers last week.
The diffusers improve water quality by introducing dissolved oxygen, helping clean the water of cloudiness and odours and reduce the possibility of algae forming. The only noticeable impact of the diffusers are bubbles on the surface of the canals and they don't affect human or ecosystem health, or stop recreational activities happening on the lake.
"We're excited to trial this technology and fortunate that Opuha Water was able to assist us by getting the aerators to us before our recreational season kicks into gear," says Mr West.
"We are encouraging residents who live near the lake to do everything they can to support efforts to improve water quality. This includes not dumping grass clippings or garden waste into the canals, and minimising garden and lawn fertilisers as these practices add nutrients to the water," Mr West said.
Health Risks associated with Mahinga kai
Water containing micro-organisms, chemicals, phytoplankton or cyanobacteria can pose a risk to health through recreational contact, drinking and gathering mahinga kai.
Mahinga kai species associated with water are fish (including tuna and inanga), kanakana shellfish (such as mussels, oysters, scallops, tuangi and tuatua) as well as seaweed and watercress.
Responsibility for Monitoring Water Quality
Regional councils like Environment Canterbury coordinate the monitoring of the various sites throughout our region and inform Community and Public Health and the territorial local authority (TLA) if contamination levels present a potential health risk.
The Territorial Local Authority places warning signs to inform the public where a health risk is identified, and takes steps to remove the contamination if possible.
Community and Public Health supports the TLAs in advising the public of the risk and ensuring that they deal with the contamination appropriately.
Council approves changes that simplify rules to manage water quality
Environment Canterbury media release: 21st August 2023
Environment Canterbury has approved new rules that will streamline the consents process and strengthen restrictions on some activities to improve water quality across significant parts of the region.
The regional council approved the following changes during the meeting on 16th August 2023:
Deputy Chair, Councillor Craig Pauling welcomed the changes as positive for the environment and the community.
"They will make things simpler for people and will streamline the consenting process – making it easier for staff and applicants alike to understand and navigate."
Key changes include:
setting more stringent freshwater outcomes and water quality and quantity limits identifying habitats of indigenous freshwater species, additional freshwater bathing sites and salmon spawning areas – and restricting activities in order to protect them;
revising the nutrient management framework to reduce the area allowed for winter grazing and irrigation as permitted activities, and requiring farms in high nitrogen areas to reduce nitrogen losses over time;
enabling consideration of Ngāi Tahu values in relation to a wider range of activities;
setting new minimum flows and new limits on the volume of surface water and groundwater available; and
a requirement to exclude stock from a wider range of waterbodies.
Deputy Chair Pauling said it had been a massive process over several years as the Council worked to finalise the changes.
"It is a significant outcome as the plan began to be drafted in 2016, was lodged in 2019 and went to hearings during 2020, with a number of appeals being dealt with over the last few years, with all but one being resolved – so it is great that we can get on with making the majority of the plan operative."
---
Documents
Downloads
Download or order resources from the Community Health Information Centre.
Links
Contact your local office for further information:
CANTERBURY, MID CANTERBURY AND CHATHAM ISLANDS
Ph: +64 3 364 1777
SOUTH CANTERBURY
Ph: +64 3 687 2600
WEST COAST
Ph: +64 3 768 1160
---
For additional information or to report water pollution, contact:
Environment Canterbury Pollution Hotline
Ph: 03 3664 663 or
0800 765 588
West Coast Pollution Hotline
Ph: 0508 800 118
---
Warnings to avoid some local waterways
Updated: 30th November 2023
Recreational water users are reminded to avoid contact with some Canterbury and South Canterbury waterways. Recently added warnings are highlighted in bold.
Potentially toxic algae or cyanobacteria or a high level of faecal (poo) bacteria is currently present in the following locations in the region:
Lake Ellesmere/ Te Waihora.
Lake Rotorua (Kaikoura) – this is a permanent warning.
Hae Hae Te Moana River at Gorge.
Pareora River at Pareora Huts.
Waihao River at Bradshaws Bridge.
St Anne's Lagoon/ Mata Kopae.
Other popular swimming sites in Waitaha | Canterbury may also have high levels of contamination after recent rainfall. People should avoid all rivers and beaches for at least two days after heavy rain.
Find out more about the public health risks of toxic algal blooms [161KB PDF].
Find out more about keeping dogs safe from toxic algae (Environment Canterbury).
Visit the Environment Canterbury website for more information on water health warnings. Routine monitoring of waterways for summer runs from November to March each year.
---
---
Page last updated: 04/12/2023