Encouraging and supporting physical activity in our community
Community and Public Health wants to improve the health and wellbeing of the people in our region by supporting the population to become more physically active.
Being physically active helps prevent and manage a wide range of conditions and diseases including:
Heart disease and hypertension;
Type 2 diabetes;
Stroke;
Cancers such as breast cancer and colon cancer;
Depression, dementia and anxiety;
Osteoporosis and fractures; and
Obesity.
The key messages on physical activity and health are:
Be active every day in as many ways as possible – for at least 30 minutes for adults and at least 60 minutes for children.
Add some vigorous exercise for extra benefit and fitness.
Aim to maintain a healthy weight throughout life.
Reduce the amount of time you spend sitting down.
Rushing back to exercise could cause long COVID
Long COVID is when symptoms persist past four weeks from the initial infection and can last for several months.
International estimates suggest 10 to 30 percent of COVID-19 cases will experience ongoing symptoms. The most important thing you can do is rest and avoid any intense exercise or busy activities in your recovery, says Dr Anna Brooks – a cellular immunologist at the University of Auckland.
"It is incredibly important to avoid Graded Exercise Therapy (GET) – or any overexertion or stressors too soon, as this may exacerbate symptoms and cause further damage."
Mental Wellbeing and Physical Activity
Physical activity releases the "feel good" chemicals (endorphins) into the body, making you feel better.
Community and Public Health actively promotes the Five Ways for Wellbeing.
Community and Public Health contributes to the Equally Well Project. This project aims to reduce physical health disparities between people who experience mental health and addiction problems and people who don't.
Staff at the Christchurch office of Community and Public Health work with people in disadvantaged areas and run the BuyCycles pilot project in partnership with the Community Focus Trust.
Contributing to physical activity in the community
Community and Public Health is a member of Active Canterbury which lists local groups, clubs or classes for activities and gives information about parks, tracks and facilities. We support this network in its work to:
supply activity providers and health professionals with the tools and information needed to help people get more active, more often;
raise awareness of training and funding opportunities to support physical activity; and
provide education programmes that meet the needs of local community physical activity providers and the wider fitness industry.
Community and Public Health also supports workplaces to improve staff wellbeing by increasing their physical activity.
We also work to ensure our urban areas are designed to encourage physical activity collaboratively with key stakeholders across the region. This includes green spaces, recreational parks and walking trails, and making forms of active transport easier more accessible (such as public transport, walking and cycling). This is achieved by contributing to local and regional planning strategies and initiatives.
It's time to Push Play again!
Sport NZ media release: 25th May 2022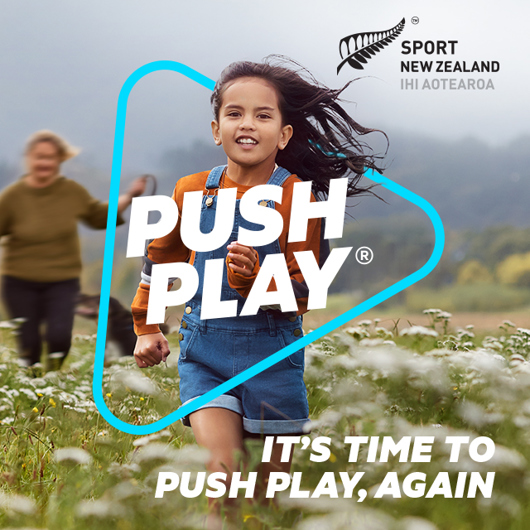 Sport New Zealand launches physical activity campaign to encourage nation to get moving again after COVID disruption.
Sport NZ is relaunching its iconic Push Play campaign – aiming to get New Zealanders up and down the country to add more movement into their day to day lives.
Physical activity levels dropped significantly in the first year of the COVID-19 pandemic, with adults doing 16 percent fewer hours. New research from Sport NZ's Active NZ survey shows that while physical activity rates have rebounded to some degree. However it isn't happening across the board, with some New Zealanders still struggling to get back into the swing of things.
The survey also shows that motivation is still proving to be a key barrier. So the campaign focuses on encouraging kiwis to make the most of local, affordable ways to stay active – without putting a number on how much activity is enough.
Sport NZ Chief Executive Raelene Castle, says it's not about what activity you do, or for how long – just take any opportunity to move, more often.
"We've seen physical activity drop during COVID-19. Now that there are more freedoms, people are getting back to it – but some groups are still doing less, and we want to see that change."
"Young people are still not as active as before and people in hardship are more affected. We're encouraging New Zealanders to take a step towards more activity for all the benefits it can bring – physical and mental – and simply in many cases, for the fun of it."
The campaign is about making physical activity simple and achievable. "Whether that's walking, online classes or reconnecting with your local sports club. We're encouraging all New Zealanders to 'Push Play' in whatever ways work for them," Raelene Castle says.
---
Documents
Downloads
Download or order resources from the Community Health Information Centre.
Links
Contact your local CPH office for further information:
CANTERBURY
Ph: +64 3 364 1777
SOUTH CANTERBURY
Ph: +64 3 687 2600
WEST COAST
Ph: +64 3 768 1160
---
Low cost physical activity options in your area
There are many activities that are free or for low cost for anyone to join in your region. The following information sheets list are some of the options available near you.
---
---
Health risks of too much sitting
---
Featured physical activity initiatives
---
Page last updated: 31/05/2022