Making a difference for māori health
Community and Public Health is committed to ensuring positive Māori health outcomes and reducing inequalities. We have a number of projects that specifically address Māori health needs throughout Canterbury, South Canterbury and the West Coast.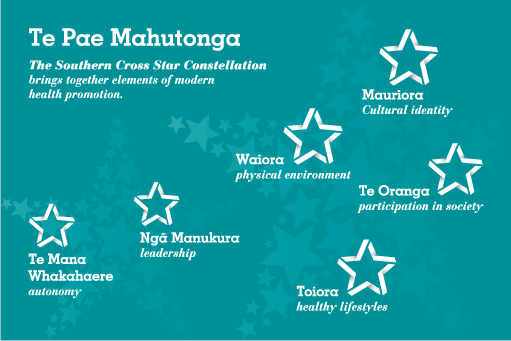 Community and Public Health embraces a model of best practice (Te Pae Mahutonga) that promotes and brings together the value of traditional and contemporary viewpoints on Māori wellness and current research to enhance its service delivery.
Our role, in addition to liaison with non-Māori, is working with Māori to assist and to strengthen whānau, hapū and iwi.
Community and Public Health works in Māori settings such as Marae, Kura and Kohanga Reo, to develop Māori communities, so that they are able to make their own healthy choices, to create their own healthy environments.
Community and Public Health have a valuable role in contributing at a population level to 'living healthy lifestyles', 'participating fully in society' and 'confidently participating in te ao Māori'.
The current CDHB Māori Health Action Plan (2016-17) also outlines the key activities that Community and Public Health will contribute to as part of the Canterbury health system to improve Māori Health outcomes.
The Christchurch Maori Health team were previously known as Hauora Matauraka, and prior to January 2011 were based at 242 Manchester Street.
Kaumātua on the West Coast encouraging health initiatives
West Coast kaumātua have committed to a role as whānau health promoters at a recent Arahura Marae wellbeing and flu vaccination hui.
The 30 elders from Te Rūnanga O Ngāti Waewae and Te Rūnanga O Makāwhio heard about flu, pregnancy and infant vaccinations from West Coast DHB Immunisation Coordinator Betty Gilsenan and Westland Medical Practice Manager Nigel Ogilvie.
Several kaumātua received their flu vaccinations, and discussed other health resources displayed by the West Coast Maori Health Provider Poutini Waiora, the West Coast Primary Health Organisation, and Community and Public Health. Some also had their blood pressure taken by Poutini Waiora staff.
Community and Public Health Maori health promoter Diana Panapa says one of the main objectives of the day was to empower the kaumātua as health promoters in their whānau and community.
Find out more about this health initiative lead by West Coast kaumātua (Te Pānui Rūnaka).
---
Documents
Latest Maori Health Publications
Maori Health Tools, Models and Strategies
Downloads
Download or order resources from the Community Health Information Centre.
Links
Contact your local CPH office for further information:
CANTERBURY
Ph: +64 3 364 1777
Fax: +64 3 379 6125
SOUTH CANTERBURY
Ph: +64 3 687 2600
Fax: +64 3 688 6091
WEST COAST
Ph: +64 3 768 1160
Fax: +64 3 768 1169
---
Nau mai haere mai. This pānui aims to share kōrero on the mahi happening within Community and Public Health and our Māori communities.
As a vehicle for promoting positive kōrero on hauora Māori within Waitaha we welcome all of your contributions to ensure that kaupapa relating to Māori health are being shared and celebrated within our rohe.
We are excited to bring you news and information on upcoming events in tāne ora, Māori men's health promotion, whānau ora, wāhine ora, and kaupapa supporting our rangatahi and tamariki.
It will also be a vehicle for distributing public health messages and regular profiles introducing the kaimahi Māori across Canterbury who work tirelessly to support our communities.
Page last updated: 13/03/2017