Encouraging active transport and active environments

Te Mana Ora | Community and Public Health works collaboratively with key stakeholders to ensure our urban areas across the region are active environments designed to promote physical activity, by having:
sufficient green space;
recreational areas and other open spaces (such as skate board parks and walking trails); and
access to active transport such as walking, cycling, jogging, using a scooter or public transport.
We actively contribute to local and regional planning strategies and decisions on open and recreational spaces, urban planning, transport, walking and cycling strategies and sustainability issues.
One of the easiest ways to incorporate physical activity into your life is to walk or cycle for everyday transport. Te Mana Ora | Community and Public Health staff promote active transport within the community and in education settings and workplaces, in the following ways:
supporting School Travel Plans (South Canterbury only);
promoting and developing strategies to encourage safe and user friendly facilities for active transport within the community;
ensuring disadvantaged populations have access to safe active transport opportunities; and
supporting the development of new recreational cycle trails and commuter cycle ways.
Addressing active transport concerns and issues
Apart from being opportunities for physical activity, active transport also contributes to the health of the population and other benefits to society through:
Reduced air pollution – including toxic gases and particulates from vehicle brakes and tyres.
Safer roads and less congestion.
Higher street security and crime prevention through more "eyes on the street".
Enhanced mental wellbeing by greater social capital and incidental social interaction.
Greater personal resilience and less dependency on fossil fuels.
A more productive workforce with less absenteeism.
Te Mana Ora | Community and Public Health works with a number of partner agencies or is a member of several networks to address active transport concerns:
The BuyCycles project supports people from Corrections and the Mental Health Services to buy a bicycle. This collaborative project with Community Focus Trust and Mental Health Services was developed and continues to be supported by Te Mana Ora | Community and Public Health.
Making sure children have safer and healthier streets
School Travel Plans provide safe options for children travelling to and from school. These are developed in collaboration with school communities and the local council, and have the following benefits:
Children are healthier through increased opportunities for physical activity.
Increased awareness among parents on the importance of physical exercise for their children.
Less cars on the road at peak times and less congestion at the school gate.
Children are more aware of the effect of their actions on their environment (pollution reduced, and energy saved).
Parental concerns about real and perceived road traffic dangers get addressed.
Staff in the South Canterbury office develop these plans in collaboration with school communities and the Timaru District Council.
Project Zebra: Tamariki crossing at the zebra crossing
Timaru District Council media release: 2nd November 2023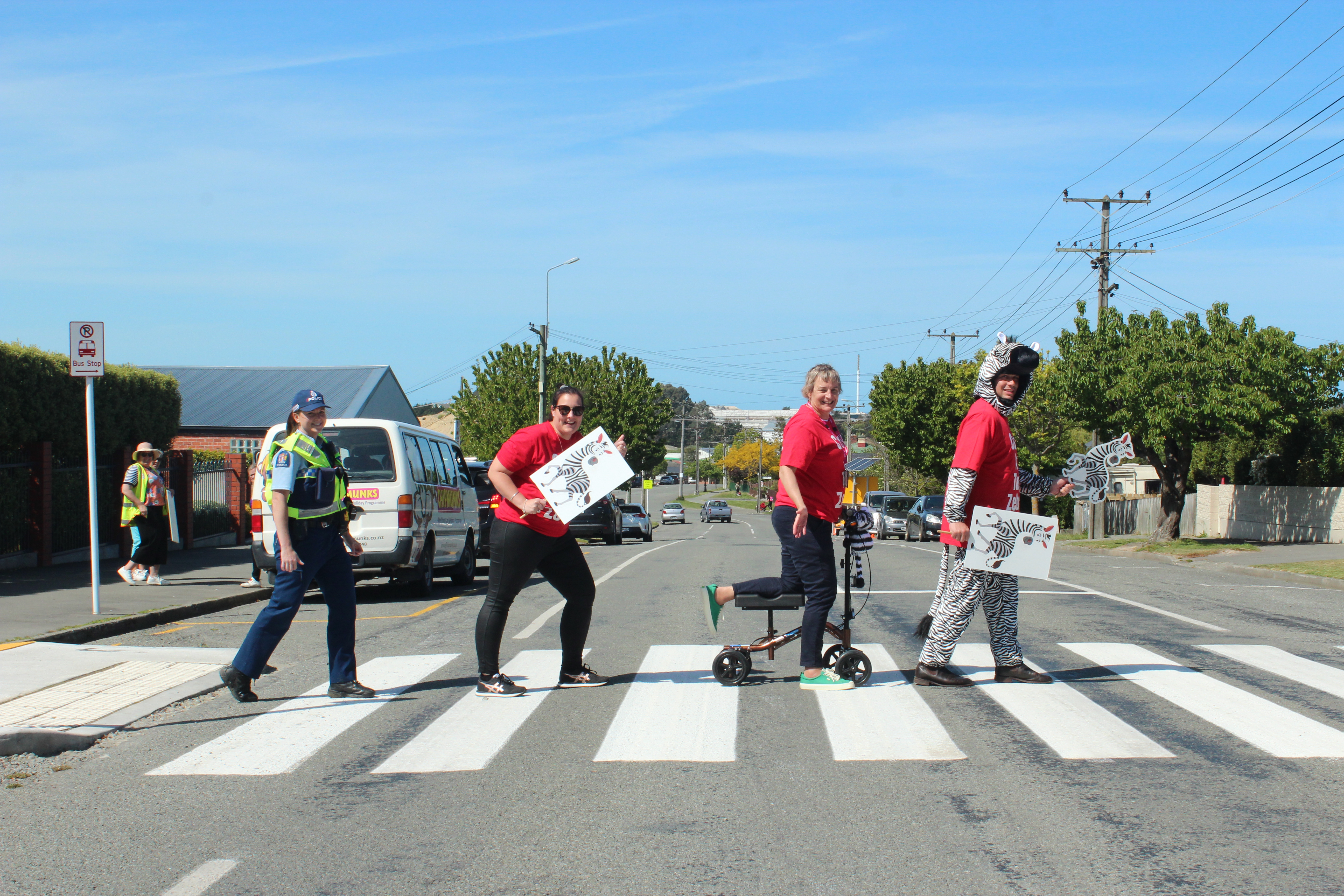 Project Zebra was developed by WAVE School Travel Plan Coordinator Jane Sullivan, in collaboration with partners SC Road Safety, Timaru District Council, Timaru Police and Auckland Transport.
The need for the project was identified in 2019 through school travel surveys with Highfield School whānau and later from discussions with Timaru South School. Driver speeds and raising awareness of driver responsibility – such as stopping for pedestrians waiting – were key drivers, plus students needed to learn the Kerb drill (STOP, LOOK, LISTEN) and learn to be responsible for their own safety when crossing on a zebra crossing.
"Whānau walking to school with tamariki sets them up for the day and is also an opportunity to connect and be active together" Jane Sullivan said.
The goal of Project Zebra is to promote safer speed and behaviour of drivers as they approach pedestrian crossings as well as student awareness of the crossing and perceptions of their own safety while walking, says South Canterbury Road Safety Coordinator Lucy Mehrtens.
Project Zebra is a great initiative to engage with school staff, students, families, and other road users to start conversations about the importance of safe travel behaviour.
"The message we are reinforcing to the tamariki is stop look and listen. If our tamariki are doing the basics right, then it reduces harm" says Deb Quested – Senior Community Constable New Zealand Police.
---
Documents
Downloads
Download or order resources from the Community Health Information Centre.
Links
For further information, contact:
CANTERBURY
Meg Christie
Ph: +64 3 378 6817
SOUTH CANTERBURY
Jane Sullivan
Ph: +64 3 687 2600
WEST COAST
Rosie McGrath
Ph: +64 3 768 1160
---
Learn to ride with Bike Bridge
Bike Bridge is a free programme for former refugee and migrant women to learn to ride a bicycle – based at Addington School | Te Kura Taumatua.
The sessions are fun and you can also meet new people. Children welcome!
Bikes and helmets provided. No special clothes are required to participate.
This next programme begins in January 2024.
Participants will also have the opportunity to get a free or heavily discounted bicycle – as well as a lock and helmet at the end of the programme.
The project welcomes female volunteers.
Contact Coordinator Lois Hill for more information (bikebridge[at]radbikes.co.nz).
Bike Bridge is supported by Te Mana Ora | Community and Public Health.
---
---
Campaign encouraging safe e-scooting
Waka Kotahi | NZ Transport Agency is encouraging the safe use of increasingly popular e-scooters.
The key messages for e-scooter users from the campaign are:
Give way to pedestrians and other footpath users.
You must not ride at a speed that's a hazard to themselves or other footpath users.
You should always wear a helmet.
Be aware that other footpath users can't see or hear you coming.
Keep left if riding on the road – when it is safe to do so.
---
Get assistance to plan your journey
The Waka Kotahi Transport Planner website lets urban and long-distance travellers know about major road works and closures – no matter what your mode of transport (car, bus, motorcycle, cycling or walking).
Navigate around the interactive map to identify where road works are located and how they may affect your journey around the city, region or country. The interactive map also provides real-time traffic flow information on arterial roads within urban areas.
You can plan your Canterbury bus journey on the MetroInfo website, or find out about detours and timetables.
---
Page last updated: 13/11/2023