Encouraging physical activity through active environments and transport
Community and Public Health works collaboratively with key stakeholders to ensure our urban areas across the region are active environments designed to promote physical activity, by having:
sufficient green space;
recreational areas and other open spaces (such as skate board parks and walking trails); and
access to active transport such as walking, cycling, jogging, using a scooter or public transport.
We actively contribute to local and regional planning strategies and decisions on open and recreational spaces, urban planning, transport, walking and cycling strategies and sustainability issues.
One of the easiest ways to incorporate physical activity into your life is to walk or cycle for everyday transport. Community and Public Health staff promote active transport within the community and in education settings and workplaces, in the following ways:
supporting School Travel Plans (South Canterbury only);
promoting and developing strategies to encourage safe and user friendly facilities for active transport within the community;
ensuring disadvantaged populations have access to safe active transport opportunities; and
supporting the development of new recreational cycle trails and commuter cycle ways.
Online bike register to help deter thefts
Christchurch City Council Newsline: 12th April 2022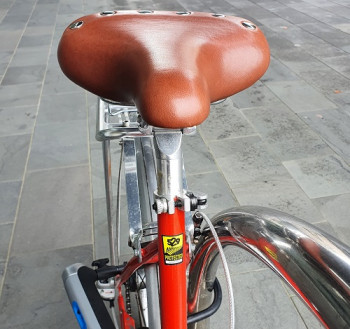 Christchurch City Council and Canterbury Police are teaming up with 529 Garage to provide a free registration scheme for bikes – to help discourage bike thefts in the community.
529 Garage is a community-powered bike recovery service that began in North America and has recently started operating in New Zealand.
The service works by encouraging bike owners to register their bikes on the 529 Garage app. Users can enter their bike's serial number, details of identifying features, as well as photos of the bike.
This record helps Police prove a bike is stolen, and enables Police to return any stolen bikes they recover to their owners.
If a bike registered with 529 Garage goes missing, the owner can also activate an alert notification to 529 Garage, which sends out a broadcast to all app users in the area to be on the look-out for the missing bike.
When people register with 529 Garage they can opt to get a tamper-resistant sticker with a unique registration code to place on the frame of their bike. The sticker provides a visual deterrent to theft by letting any would-be thieves know that the bike is registered with 529 Garage.
Registering your bike on 529 Garage only takes a few minutes and it is free.
Addressing active transport concerns and issues
Apart from being opportunities for physical activity, active transport also contributes to the health of the population and other benefits to society through:
Reduced air pollution.
Safer roads and less congestion.
Higher street security and crime prevention through more "eyes on the street".
Enhanced mental wellbeing by greater social capital and incidental social interaction.
Greater personal resilience and less dependency on fossil fuels.
A more productive workforce with less absenteeism.
Community and Public Health works with a number of partner agencies or is a member of several networks to address active transport concerns:
Cycling Advocates Network aims to get more people to cycle more often, and Community and Public Health works closely with each of their regional branches.
Disabled Persons Assembly works with us towards a transport network that is accessible to all including people with disabilities, the very young and the elderly.
Frocks on Bikes is a national voluntary organisation promoting bike riding as a mainstream activity that does not need special clothing or a great deal of physical fitness.  Community and Public Health founded the local Canterbury group so staff manage and inform subscribers of upcoming rides and bike related activities.
Living Streets Aotearoa aims to promote walking as viable, affordable and easy transport, and make Christchurch streets a safer place to walk.
Go Cycle Christchurch provides free commuter cycling advice and practical on-road skills.
The ICECycles project helps people get access to free bikes and free bike repair. This project was developed by Community and Public Health.
Pop Up Fix Up is a group project from RAD that works in disadvantaged communities every 4 to 8 weeks to provide free bike repair.
The BuyCycles project supports people from Corrections and the Mental Health Services to buy a bicycle. This collaborative project with Community Focus Trust and Mental Health Services was developed and continues to be supported by Community and Public Health.
Making sure children get to school safely
School Travel Plans provide safe options for children travelling to and from school. These are developed in collaboration with school communities and the local council, and have the following benefits:
Children are healthier through increased opportunities for physical activity.
Increased awareness among parents on the importance of physical exercise for their children.
Less cars on the road at peak times and less congestion at the school gate.
Children are more aware of the effect of their actions on their environment (pollution reduced, and energy saved).
Parental concerns about real and perceived road traffic dangers get addressed.
Staff in the South Canterbury office develop these plans in collaboration with school communities and the Timaru District Council.
---
Documents
Downloads
Download or order resources from the Community Health Information Centre.
Links
For further information, contact:
CANTERBURY
Meg Christie
Ph: +64 3 378 6817
SOUTH CANTERBURY
Jane Sullivan
Ph: +64 3 687 2600
WEST COAST
Rosie McGrath
Ph: +64 3 768 1160
---
Learn to ride with Bike Bridge
Bike Bridge is a free programme for former refugee and migrant women to learn to ride a bicycle at Ngā Puna Wai (Augustine Drive in Aidenfield).
The sessions are fun and you can also meet new people. Children welcome!
Bikes and helmets provided. No special clothes are required to participate.
This programme only runs during the spring and summer months (Daylight Saving time). So the next course will begin in late September 2022.
Participants will also have the opportunity to get a free or heavily discounted bicycle – as well as a lock and helmet at the end of the programme.
There will be three programme levels:

For absolute beginners;
For women who want to improve their riding skills off-road; and
For women wanting to learn to ride in traffic and navigate other road infrastructure.
The project welcomes female volunteers.
Contact Meg Christie for more information (027 080 6927 or bikebridge.christchurch[at]gmail.com).
Follow Bike Bridge Christchurch on Facebook.
Bike Bridge is supported by Community and Public Health.
---
Campaign encouraging safe e-scooting
Waka Kotahi/ NZ Transport Agency is encouraging the safe use of increasingly popular e-scooters.
The key messages for e-scooter users from the campaign are:
Give way to pedestrians and other footpath users.
You must not ride at a speed that's a hazard to themselves or other footpath users.
You should always wear a helmet.
Be aware that other footpath users can't see or hear you coming.
Keep left if riding on the road – when it is safe to do so.
---
Plan your journey around Christchurch
The Transport for Christchurch website lets travellers around the city know about major road works and closures – no matter what your mode of transport (car, bus, motorcycle, cycling or walking).
Navigate around the interactive map to identify where road works are located and how they may affect your journey around the city. The interactive map also provides real-time traffic flow information on arterial roads within the city area.
You can plan your bus journey on the MetroInfo website, or find out about detours and timetables.
---
Page last updated: 22/06/2022