Walk2Work Day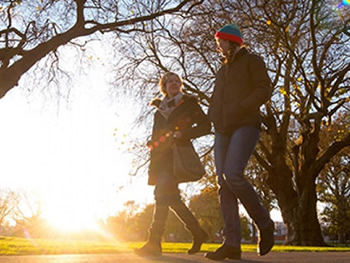 Walk2Work Day (10th March 2021) is New Zealand's day to celebrate walking. You can walk almost anywhere, at any time, in any weather for free.
You could walk to catch a bus or ferry for your health, and the health of our planet. Research reported in the British Medical Journal showed that walking and catching the bus, train or ferry keeps you fitter than using a car.
You are also invited to treat yourself and take your favourite walk on this day, or join others at your local council event.
Check your local council website for more information on Walk2Work Day events near you.
The benefits of making a walk part of your commute
It's easy and starts with one step – walk 1000 metres, about 1300 steps or 12 minutes and you will:
Gain energy and improve balance and coordination;
Improve your mental health and wellbeing by connecting with your environment and noticing what is around you;
Tone your legs, bum and tum and use up 74 calories (for a 70kg person);
Save $3.62 of health benefits, save 0.72 cents of car costs, and avoid 0.2kgs of carbon emissions;
Reduce your disease risk and improve heart health; and
Be able to socialise with friends and community on the way.
Walk more by:
leaving the car at home and making the journey to work on foot or combining with using the bus or train;
walking to run errands at the local shops;
walking the kids to school;
using the stairs instead of the lift;
making it social by walking with someone else – like a walking meeting or catch-up ;
walking to talk a colleague instead of sending an email; or
aiming for 30 minutes a day – or 10,000 steps if you're using a pedometer.
Adapted from the Living Streets Aotearoa website.
Published on Wednesday, February 10th, 2021, under
Uncategorised
Page last updated: 11/03/2021