News & Events
Catch-up MMR programme for 15 to 30 year olds
28 September 2020
People aged between 15 and 30 who haven't had their MMR (measles, mumps, rubella) vaccine, or they're not sure, are urged to get their free immunisation now.
More than 2,000 Kiwis got sick from measles in 2019 and more than 700 needed hospital treatment, while more than 80 people in Samoa – mostly children – died from the disease.
"Last year's measles outbreak and this year's COVID-19 pandemic have shown the impact infectious diseases can have when we are not immune," says Canterbury Medical Officer of Health Ramon Pink. "Now is the time to catch up on the vaccinations we have easy access to such as MMR, to protect our community and whānau in the future."
Those born between 1990 and 2005 have the lowest immunity against measles and are most at risk of catching it because a higher than usual proportion of this age group didn't have their scheduled childhood MMR vaccinations. This group is not only more likely to catch measles but also spread it to others, which is why there is now a national catch-up programme focusing on improving the immunity of this group.
About ninety-five percent of people will be protected by just one dose of MMR, while two doses ensures more than 99 percent of people are protected. The vaccine also protects against mumps and rubella. It is safe to have an MMR even if you are unsure if you have been fully immunised.
"We're urging everyone aged 15 to 30 years old to get at least one MMR vaccination to help prevent future outbreaks of measles," says Ramon. "Ask your doctor, parents or caregiver if you had two doses of MMR as a kid, and if you didn't or aren't sure, it's a good idea to get one MMR dose now."
General Practice teams across Canterbury have started inviting people in this age group to come in for their free measles catch up. People can also get an MMR catch up from some pharmacies if they are aged over 16.
"Measles is more than eight times more infectious than COVID-19. It can make you very sick and affect your health for the rest of your life. Getting a catch-up dose now will make sure you and those around you are protected in the future," says Ramon. MMR is also part of the childhood immunisation schedule (moving to 12 and 15 months from 1st October 2020). Anyone born after 1969 continues to be eligible for two free MMR doses.
Source: Canterbury CDHB CEO Update (28th September 2020).
Information on COVID-19
12 August 2020
It is not time for us to ease up on our precautions against COVID-19. We've been through a lot, and we will get through this too. We're stronger together.
Protect yourself and others with good hygiene
Cough or sneeze into your elbow or by covering your mouth and nose with tissues. Put used tissues in a bin or bag immediately.
Wash your hands with soap and water often (for at least 20 seconds) and dry thoroughly:
before eating or handling food;
after using the toilet;
after coughing, sneezing, blowing your nose or wiping children's noses; and
after caring for sick people.
Avoid close contact with people who are unwell. Also avoid personal contact with sick people, such as kissing and sharing cups or food.
Avoid touching your eyes, nose or mouth.
Clean and disinfect frequently touched surfaces and objects, such as doorknobs.
Stay home if you feel unwell. Minimise close contact even in your home.
People living in communal spaces must be especially careful with distancing, cleaning and general hygiene.
Protect yourself and others when out and about
Keep your distance from other people in public:
Two metres in public and in retail stores like supermarkets and clothes shops; and
One metre in most other environments like workplaces, cafes, restaurants, and gyms.
Practice low-touch shopping:
Do not handle things you are not buying;
Be aware of how you are touching things like bank cards, money, ATMs and Eftpos machines; and
Wash your hands as soon as you can after touching things others have touched.
Keep a track of where you've been and who you've seen. This will make contact tracing fast and effective to help prevent any further spread.
You can download the NZ COVID Tracer app – available from the Apple Store or Google Play.
Wear a mask in situations where physical distancing is not possible, like on public transport or in shops.
If you are a business or provide a service: Increase your cleaning routine in between customers.
What to do if you feel unwell
Stay home if you're unwell. Don't go to work or school. Don't socialise.
Call your medical practice or Healthline (0800 358 5453) if you have COVID-19 symptoms. These include:
a new or worsening cough;
a sore throat;
shortness of breath;
a stuffy or runny nose; or
lost sense of smell – with or without a fever.
You can be tested for COVID-19 at your general practice or a community-based testing centre (CBAC). Most GP teams are offering COVID-19 testing if you have symptoms.
You can attend a community testing centre if your medical practice does not provide testing or if you are not registered with a medical practice team. You do not need an appointment to attend a community testing centre.
Testing is free, unless you require a test for travel overseas. You must contact a medical practice if you need a test to travel overseas.
Stay informed from reliable sources about COVID-19
Local public health response to novel coronavirus COVID-19
Community and Public Health stood up their EOC in just two hours in late January 2020 in response to COVID-19 with staff ceasing 'business as usual' work. Every effort, hour and individual has been focused on the response since then, and will likely be the last organisation to wind down. Our staff have been involved in the local COVID-19 response in many 'behind the scenes' ways across Canterbury, South Canterbury, West Coast and the Chatham Islands.
Cantabrians urged to protect themselves against Legionnaires' disease
10 August 2020
People are more inclined to head outside and get stuck into their gardens as the days get longer and warmer. This comes with an increased risk of catching Legionnaires' disease. So gardeners are being urged to take care with potting mix and compost.
Canterbury Medical Officer of Health Dr Ramon Pink says Legionnaires' disease is a form of pneumonia.
"It's caused by the Legionella bacteria that live in moist organic material. People can catch the disease by inhaling airborne droplets or particles containing the bacteria. Gardeners are at particularly high risk of catching Legionnaires' disease as the bacteria thrives in bags of potting mix and compost," says Dr Pink.
There is typically a spike in cases in early November in Canterbury. This can be attributed to the increased gardening activity from Labour Weekend onwards. Now is the time for people to take the necessary steps to avoid catching the disease.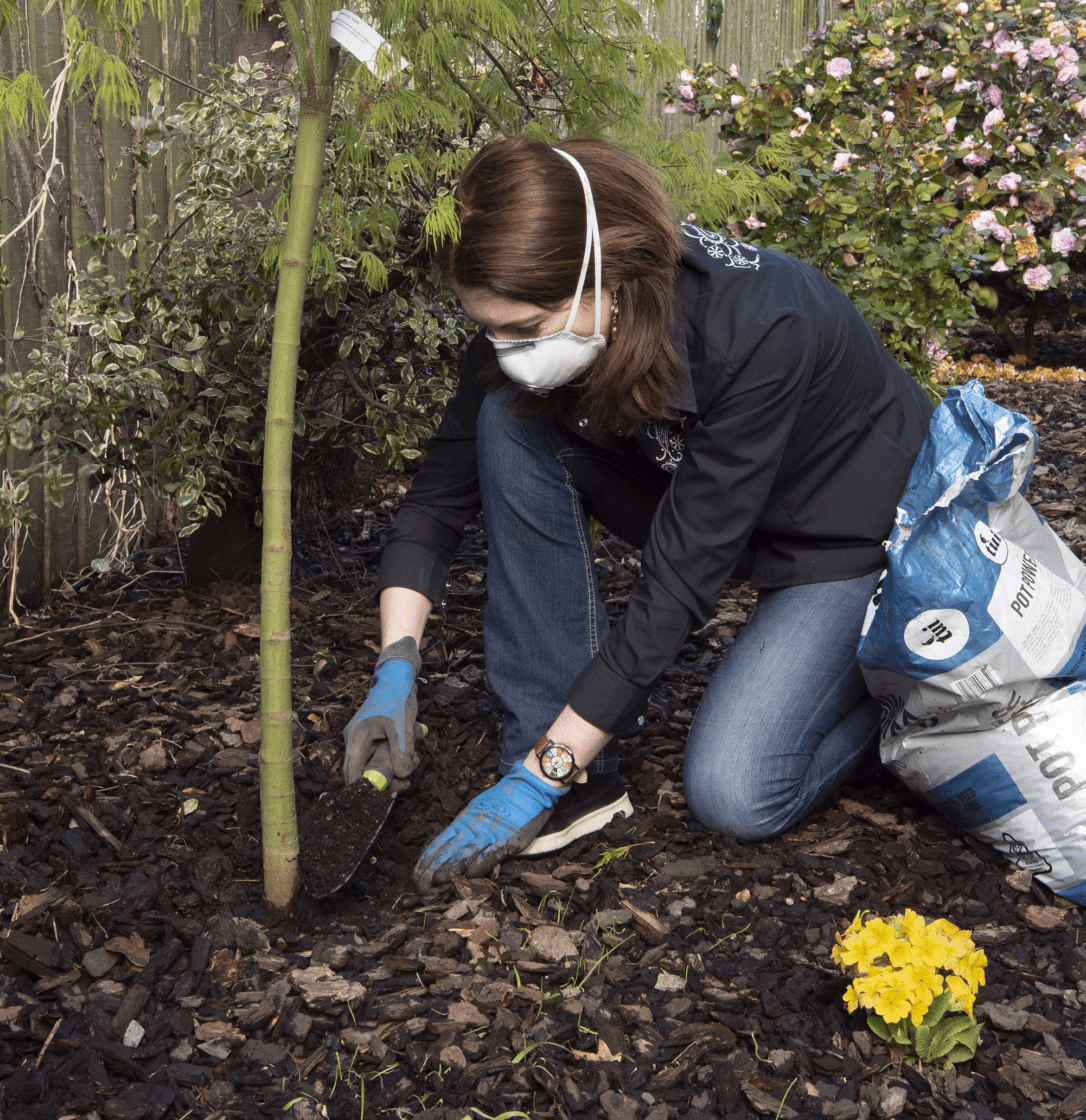 Five simple steps to avoid Legionnaire's disease from potting mix or compost
It is important that gardeners follow these five simple steps to avoid catching Legionnaires' disease from potting mix or compost:
Open bags of compost or potting mix carefully – use scissors instead of ripping the bag
Wear a well-fitting disposable face mask and gloves. Remember not to touch your mask while gardening.
Dampen down the potting mix or compost with a sprinkle of water to reduce dust.
Work with potting mix or compost in a well-ventilated area outside.
Wash your hands thoroughly after handling potting mix or compost, or doing any gardening.
"Legionnaires' is a very serious illness and these simple actions can be lifesaving" says Dr Pink.
The illness may be mild but can sometimes be fatal. It is more common in older people, particularly if they smoke, have poor immunity or a chronic illness. However healthy young people have died from legionella pneumonia.
Symptoms of Legionnaire's disease to look out for
Symptoms of the disease may include:
dry coughing
high fever
chills
diarrhoea
shortness of breath
chest pains
headaches
excessive sweating
nausea
vomiting, and
abdominal pain.
Anyone who gets these symptoms should see their general practice team immediately, and let them know they have been handling potting mix or compost recently.
Page last updated: 24/04/2018