News & Events
Possible Hepatitis A exposure at Madam Woo restaurant
28 January 2020
Community and Public Health want to hear from anyone who ate food from Madam Woo restaurant any time on Wednesday 15th and Friday 17th January 2020 – as they may have been exposed to Hepatitis A.
People who ate food from Madam Woo Christchurch on these dates – either dine in, takeaway or from a meal delivery service – should call Community and Public Health as soon as possible (03 364 1777) and ask to speak to a Health Protection Officer. Community and Public Health have managed to contact most diners through contact information Madam Woo provided, but estimate there are around 40 people who still need be to contacted.
An urgent Hepatitis A vaccination is being offered to those affected who have no previous immunity to Hepatitis A. You would be considered to have immunity if you've already been vaccinated or had Hepatitis A.
Medical Officer of Health Dr Ramon Pink says there is a limited window of opportunity to provide vaccinations which will provide the best protection to prevent someone going on to develop Hepatitis A:
People who dined on 15th January have until Wednesday 29th January to receive the vaccination, and
Those who dined on 17th January have until Friday 31 January to be vaccinated.
Dr Pink thanked the team at Madam Woo for their cooperation. "The team have been extremely good to work with. It's important to stress that there is no ongoing risk of infection to anyone who dines at Madam Woo now," he said.
Hepatitis A is an infectious disease caused by the hepatitis A virus. It stops the liver from working properly. Hepatitis A is rare in New Zealand, but you may be at increased risk if you plan to travel overseas.
Source: Canterbury District Health Board media release (28th January 2020).
Information on the novel coronavirus in Wuhan
27 January 2020
Community and Public Health will have staff at Christchurch International Airport from today to provide information on novel coronavirus for passengers arriving on flights direct from Mainland China.
Medical Officer of Health Dr Ramon Pink says there is one direct flight every day from Mainland China to Christchurch. "There are no direct flights from the most affected areas – Wuhan City and Hubei province. Our staff will be meeting passengers from all direct flights from Mainland China.
"The increasing spread of the novel coronavirus – including cases in Australia – meant a public health presence at the airport was required.
"Members of the public health team are providing information to travellers about symptoms of the coronavirus illness and advising them on what to do if they become unwell in New Zealand. If any travellers report respiratory symptoms of concern, public health staff will provide an initial assessment. Any passengers of concern will be managed according to established processes.
"It is possible that cases will be identified in New Zealand. The public can be reassured that the Canterbury Health System is prepared in the event we have cases of novel coronavirus.
Coronavirus awareness posters in English and Chinese are being distributed to Canterbury DHB facilities, as well as general practice, Urgent Care clinics and other health providers. These are designed to let patients know about the symptoms and to advise them to wear a mask if they have symptoms and have been to Wuhan in the past 14 days or have had close contact with someone confirmed as having the novel coronavirus.
Symptoms of 2019 Novel Coronavirus (2019 nCoV)
"Symptoms of novel coronavirus are similar to many other respiratory viruses, and include a high fever, cough and difficulty breathing. We would expect a number of travellers will have influenza-like symptoms with it being influenza season in the northern hemisphere."
Dr Pink says the public should follow the usual precautions to help keep themselves healthy, well and free from respiratory illness. This includes:
avoiding close contact with people suffering from respiratory infections;
frequently washing hands, especially after contact with ill people or their environment;
people with symptoms of respiratory infection should practice cough etiquette. This includes maintaining distance, covering coughs and sneezes using disposable tissues or clothing, and washing hands regularly.
"The Ministry of Health  website has the latest information on novel coronavirus and it's being updated regularly as the situation evolves," says Dr Pink.
No cases have been reported in New Zealand so far. 
All travellers to New Zealand who become sick within a month of their arrival are encouraged to seek medical advice by calling Healthline (0800 611 116). Calls are free of charge and answered by a nurse 24/7. Interpreters are available. It is important to mention your recent travel history (such as from Wuhan) and any known contact with someone with severe acute respiratory illness who has been in Wuhan.
Ministry of Health's response to the novel coronavirus
The Ministry of Health is closely monitoring the international situation and guidance provided by the World Health Organization in relation to the novel coronavirus that originated in Wuhan, China.
The likelihood of a case arriving in New Zealand is high, so the Ministry of Health is taking this outbreak overseas very seriously. The Ministry is strengthening our readiness to respond should we have a suspected case.  An incident management team has been set up to monitor and respond to the situation and provide public advice and information.
The risk of an ongoing outbreak in New Zealand remains low.
An expert advisory group met on 24th January to peer review advice and provide technical expertise to the Ministry. Advice for health professionals will provide health practitioners with advice and guidance around first case scenarios.
The Ministry has an up to date Pandemic Plan and maintains preparedness for a pandemic. The plan is a very useful guide even though this is not an influenza outbreak. We are currently at the readiness stage of the plan.
The Ministry is aware that travellers from China – including students – are arriving in New Zealand and we are in close contact with the Ministry of Education, Customs, Ministry of Foreign Affairs and Trade and other agencies to share advice.
Border response to the novel coronavirus in China
A Border Working Group specifically in response to the new coronavirus is in operation including representation from the Ministry of Health, Ministry for Business Innovation and Employment (including Immigration NZ), Customs, NZ Police and the Ministry for Primary Industries, Aviation Security, Ministry of Transport and the NZ Defence Force.
All government agencies have been updated on the situation and actions that have been taken to date. Agencies will be receiving information on what to do if a person is identified as requiring further health follow up. Staff have also been reminded of good infection control practices and protecting their own health.
The border response has a specific emphasis on airports in Auckland and Christchurch.
Health advice cards in both traditional and simplified Chinese are available at international points of entry. These cards provide general advice on symptoms of concern and advise ill travellers to call Healthline (for free) on 0800 611 116 and mention their travel history. Healthline has been informed and will continue to triage any symptomatic callers.
Banners have been developed for points of entry in Traditional and Simplified Chinese to draw attention to the health advice cards – with the support of New Zealand Customs.
There are no direct flights between New Zealand and Wuhan. WHO does not recommend thermal screening for 2019-nCoV at this stage.
There are currently no travel restrictions at the New Zealand border related to this outbreak. 
Sources: Canterbury DHB media release (27th January 2020) and Ministry of Health media release (24th January 2020).
Keep cool and hydrated to beat the heat
24 January 2020
Cantabrians are being urged to keep cool and hydrated during what looks set to be the region's first stretch of scorching temperatures as we move into hottest part of summer.
Weather forecasters are predicting a run of at least five consecutive hot days, with temperatures between the high twenties to early thirties beginning tomorrow (Saturday 25th January) with a forecast high of 31 in Christchurch.
Canterbury Medical Officer of Health Dr Ramon Pink says these higher temperatures can be harmful to our health and we must take care not to overheat, a condition which can prove fatal.
"It's especially important to stay out of the sun where possible, avoid extreme physical exertion and ensure pets and people are not left alone in stationary cars.
"We are all vulnerable to hot temperatures, but some people are particularly at risk. This includes the elderly, infants and children, women who are pregnant, people suffering from chronic, acute and severe illness," says Dr Pink.
However, there are some simple steps that we can all take to reduce the risk to our health when the temperatures are high. They include:
Avoiding going outside during the hottest time of the day;
Drinking plenty of water and avoiding alcohol and caffeine; and
Wearing lightweight, loose-fitting, light coloured cotton clothes.
Dr Pink says people whose work involves strenuous physical activity outdoors should be particularly vigilant to avoid overheating in hot weather.
"It's important people exposed to hot weather for long periods of time carry water with them and sip at least half a litre an hour, allow for more breaks in the shade, reapply sunscreen every two hours and schedule the hardest work in the coolest part of the day.
"Be SunSmart (Slip, Slop, Slap and Wrap) if you have to go outside. Keep your house cool by closing curtains on windows getting direct sun, opening windows to get a breeze if it's cooler out than in, and consider using the cool cycle on heat pumps," says Dr Pink.
If it's not possible to keep your home cool, then try to spend a few hours of the day in a cool place – such as an air-conditioned public building, Marae or church as these tend to be cool in summer.
People should keep medicines below 25°C degrees or in the fridge – read the storage instructions on the packaging.
What to do if you or someone else feels unwell or you are concerned
You may be dehydrated if you feel dizzy, weak or have an intense thirst or headache. Drink some water and rest in a cool place.
If you think you or someone else might be suffering from heat stress or strain, you could:
Increase fluids – consider electrolytes;
Take a break in a cool spot;
Use a cold compress;
Remove excessive clothing;
Don't leave the person alone;
Run cold water over wrists to cool down blood stream; or
Seek immediate medical attention.
Seek medical advice if symptoms persist or you're concerned about your or someone else's health. You can call your general practice team 24/7 for care around the clock – after hours a nurse can provide free health advice, and tell you what to do and where to go if you need to be seen urgently.
Call 111 in a life-threatening emergency.
Look out for the symptoms of heat distress
Look after each other and keep an eye out for your mates who may not be aware that they are getting overheated. Symptoms of heat-related illness can include:
Confusion;
A throbbing headache;
Dizziness;
Nausea, vomiting or diarrhoea;
Slow responses or fatigue;
Not sweating despite the heat;
Muscle cramps or weakness; and
Loss of consciousness.
Heat in the workplace
Working in hot temperatures can make us irritable and distracted, but it can also lead to serious health conditions like heat exhaustion or heat stroke in extreme cases.
Tell your manager if you think that you or someone else is struggling with the heat, or if you have concerns that your work environment is too hot.
Source: Canterbury DHB information (December 2019) and media release (24th January 2020).
Cantabrians' wellbeing continues to improve
18 December 2019
Canterbury's latest wellbeing indicators show that most people continue to rate their quality of life highly.
A major update to the Canterbury Wellbeing Index was released today by Canterbury District Health Board. The Index uses data from many different local and national agencies, as well the Canterbury Wellbeing Survey, to bring together information about wellbeing in Christchurch City, Selwyn District and Waimakariri District.
Chair of the greater Christchurch Psychosocial Governance Group Evon Currie, says quality of life ratings have reached the highest level ever since surveying started, with over eight in ten (86 percent) greater Christchurch residents rating their quality of life positively.
"Greater Christchurch is going from strength to strength, with new developments helping contribute to a real sense of vibrancy. This, combined with the fact far fewer of us are still battling insurance and other earthquake related stressors, is contributing to overall improvements in wellbeing," says Currie.
Quality of life in Christchurch City has risen the most since the first Canterbury wellbeing Survey in 2012 (up 15 percent to 86 percent). Overall there is very little variation across the region, with 89 percent of Selwyn residents, and 87 percent of Waimakariri residents, rating their quality of life positively in 2019.
Currie says loneliness continues to be a significant issue amongst Canterbury youth, with 15 percent of 18 to 24 year olds reporting feeling lonely or isolated always or most of the time in 2019. This figure is significantly higher than 6 percent for the overall adult population. The 65 to 74 year age group has the lowest proportion reporting loneliness – at less than 2 percent. The 18-24 year old age group also has the highest proportion (16 percent) who would find it hard or very hard to talk to someone if they were feeling down.
"It is apparent that we need to explore ways in which we can address loneliness among young people. Are we doing enough for our young people? This is a key question our community, and our policy makers, need to keep asking.
"Someone who is lonely, and who doesn't feel there is anyone they can talk to, is vulnerable. As a society we all need to step up and ensure we are there for each other and no one falls through the cracks," says Currie.
The Canterbury Wellbeing Index contains 57 indicators across a diverse range of domains including education, housing, health and employment, and includes a separate section focusing on 19 Māori wellbeing indicators. The interactive Index website enables users to easily extract the information they are interested in.
Source: Canterbury District Health Board media release (18th December 2019).
Care around the clock continues over the summer
Remember that you can still get free health advice whenever you need it wherever your holidays take you around New Zealand.
You can call your own general practice team 24/7 for care around the clock – whether you've had a donk from your new pétanque set or the Christmas leftovers are turning your tummy.
Be sure to load your usual general practice number into your mobile phone before you head off on holiday. A team of registered nurses are ready to take your call when the doors are closed and the lights are out – any time of day or night, including public holidays.
Watch a video to meet some of the care around the clock nursing team and find out more about the service they provide.
Remember to take enough of your regular medications with you if you are heading away. If you need a repeat prescription – get it sorted before you leave town.
Call or text 1737 any time if you're feeling anxious or just need someone to talk – you can talk a trained counsellor for free.
Call 111 in a life-threatening emergency.
Make your usual general practice team your first call for all other health care needs – whether you're holidaying in Wanaka or Whangamata. They can tell you what to do and where to go if you need to be seen urgently.
Information for visitors to Christchurch
Visitors to Christchurch who need to see a doctor can visit one of the urgent care practices:
The 24 Hour Surgery (401 Madras Street – near the corner with Bealey Avenue).
Phone (+64) 3 365 7777
Moorhouse Medical (3 Pilgrim Place)
Phone (+64) 3 365 7900. Open 8am to 8pm daily.
Riccarton Clinic (4 Yaldhurst Road)
Phone (+64) 343 3661. Open 8am to 8pm daily.
Get trusted health advice over the summer
Other good places for health advice are:
HealthInfo Canterbury – a health information website with information specific to Canterbury. It is written and approved by local doctors, practice nurses, hospital clinicians, and other healthcare professionals; or
your community pharmacy.
Source: Canterbury DHB media release (16th December 2019).
Cantabrians urged to protect themselves against Legionnaires' this spring
25 October 2019
People are more inclined to head outside and get stuck into their gardens as the days get longer and warmer. This comes with an increased risk of catching Legionnaires' disease.
There were 48 hospitalisations from Legionnaires' in Canterbury last year. 12 cases of the disease have already confirmed in the region since June. So gardeners are being urged to take care with potting mix and compost.
Canterbury Medical Officer of Health Dr Alistair Humphrey says Legionnaires' disease is a form of pneumonia.
"It's caused by the Legionella bacteria that live in moist organic material. People can catch the disease by inhaling airborne droplets or particles containing the bacteria. Gardeners are at particularly high risk of catching Legionnaires' disease as the bacteria thrives in bags of potting mix and compost," says Dr Humphrey.
There is typically a spike in cases in early November in Canterbury. This can be attributed to the increased gardening activity from Labour weekend onwards. Now is the time for people to take the necessary steps to avoid catching the disease.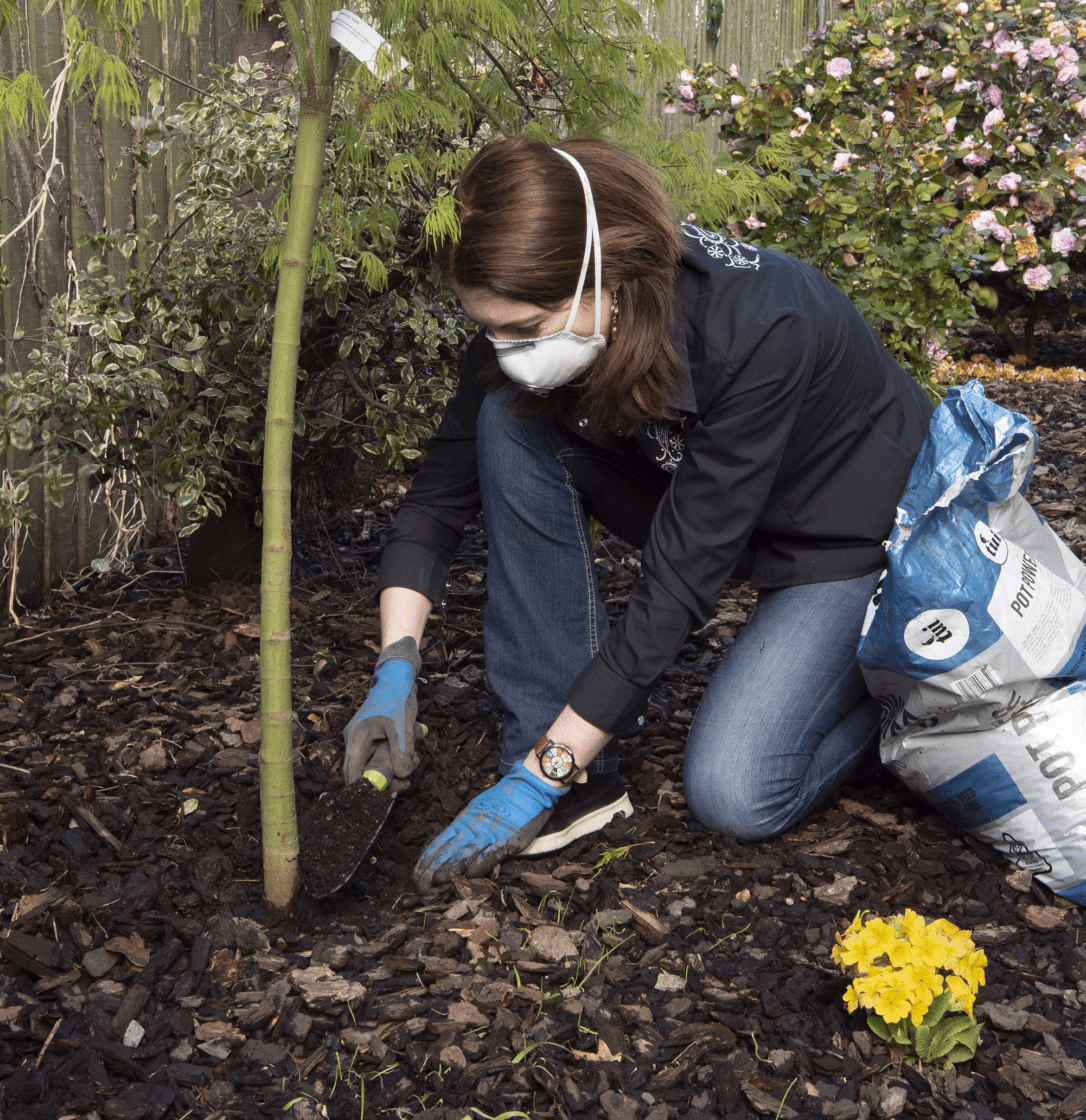 Five simple steps to avoid Legionnaire's disease from potting mix or compost
It is important that gardeners follow these five simple steps to avoid catching Legionnaires' disease from potting mix or compost:
Open bags of compost or potting mix carefully – use scissors instead of ripping the bag
Wear a well-fitting disposable face mask and gloves. Remember not to touch your mask while gardening.
Dampen down the potting mix or compost with a sprinkle of water to reduce dust.
Work with potting mix or compost in a well-ventilated area outside.
Wash your hands thoroughly after handling potting mix or compost, or doing any gardening.
"Legionnaires' is a very serious illness and these simple actions can be lifesaving" says Dr Humphrey.
The illness may be mild but can sometimes be fatal. It is more common in older people, particularly if they smoke, have poor immunity or a chronic illness. However healthy young people have died from legionella pneumonia.
Symptoms of Legionnaire's disease to look out for
Symptoms of the disease may include:
dry coughing
high fever
chills
diarrhoea
shortness of breath
chest pains
headaches
excessive sweating
nausea
vomiting, and
abdominal pain.
Anyone who gets these symptoms should see their general practice team immediately, and let them know they have been handling potting mix or compost recently.
Source: Canterbury DHB media release (25th October 2019).
Page last updated: 24/04/2018