News & Events
Five Ways to Wellbeing during the holiday season
1 December 2021
Are you expecting this Christmas to be stressful, either for you or someone you know?
More than a quarter of all New Zealanders feel added financial and social stresses during the festive season. The pressure is on some of us to create a magical day for our tamariki and whānau. The Kirihimete period can increase loneliness and hardship for others, with limited access to kai, transport and other services.
Try to keep in mind that the true gift of the season is our presence, not our presents.
Giving our time, our words and our presence makes others feel great, but it also lifts our own mood and makes us feel our lives have more meaning.
Christmas can be stressful – but it doesn't have to be
Here are some ways to reduce stress for you, whānau and others around you…
Spend time in nature. Over summer the pōhutukawa blossom, the sun shines more, and the days are longer. Taking a walk through the ngahere (bush), throwing the ball around with your tamariki, going to the beach or planting vegetable seeds are some great ways to connect with taiao (the environment).
Buy food on special ahead of season, when prices are lower. Buying kai early can also help manage the Christmas budget.
Find time to recharge.
Call or text 1737 if you ever feel Christmas pressure is affecting your or someone else's mental health. You don't need to keep it to yourself – their trained counsellors are always on hand to help.
Five Ways to Wellbeing: Simple things we can do to feel great
Connect (me whakawhanaunga)
Spend time really connecting with your whanāu each day. If you haven't seen them in a while, stop and ask them how their year has been, how they've handled things etc.
Make some time in your day to connect with nature – stretch your legs outside or bring the outside in.
Go barefoot and feel the grass or sand between your toes.
Go for a swim in the sun.
Find a photo of the natural world and make it your screen saver, or adopt a potted plant.
Reach out to people you know – Skype them, call or Facebook them, or meet face to face.
Take some time to read the local newspaper or newsletter to see what's going on in your area, such as an organised group outing, musical or cultural performance or community Christmas event.
Take friends or whānau to look at Christmas lights.
Spend quality time with whānau doing things you all enjoy.
Head along to listen to Christmas carols.
Give (tukua)
Giving is huge at Christmas time but it's also expensive. One way to shake off the financial stress is by getting creative with the holiday spirit. You could also focus on giving kindness, your time, or your presence – it's a present in itself!
Give a smile to a stranger or a compliment to someone.
Give the gift of time by offering to help with someone's garden or babysit.
Do some Christmas arts and crafts. Make a gift from natural materials. Bake seasonal treats to give away as presents, create decorations or reduce your card costs! Crafts are a great way to get tamariki involved in the festive spirit.
Donate some old toys, books or clothes to someone who might need some kindness.
Visit people or whānau in your community who may be a little lonely over the festive season. Rest homes and animal shelters value companionship and Christmas cheer. Random acts of kindness also do the trick!
Take notice (me aro tonu)
Every day seems to get busier and the spirit of the season can get lost in the hassle and bustle of each day. Pay attention to the special moments throughout your break or nice interactions at work. Practise mindfulness and savour the good moments.
Another good antidote is to take some time to learn more about what your body is telling you. If you're feeling overwhelmed and exhausted – pause, breathe in, breathe out. You could also:
Take notice of the pohutukawa flowers changing, or the night sky.
Go somewhere you've always been meaning to visit in your local area.
Find out other ways to be mindful (Mental Health Foundation).
Keep learning (me ako tonu)
Seek out new experiences or try something new this festive season – as learning is good for the brain!
Read up on what fruit and veggies are in season, or learn about what natural resources you have in your backyard.
Download this handy backyard treasure hunt chart and see what you can find.
You really can learn something new each day – share or learn stories with your family, go on a bush walk, learn about the natural environment from your tablet or local library, or take a trip to a zoo or the botanical gardens.
Make a new year's resolution to learn a new language.
Be active (me kori tonu)
Getting outside and exercising is good for your overall health and wellbeing, It is especially important while we're indulging in so much delicious food!
Have a lunch break outside.
Design a treasure hunt for your friends and family.
Get the whanāu out and play some games at the beach or on the lawn.
Go for a run or walk – on your own, with a friend or your whānau.
Take the dog for a walk.
There are ways to bring activity into all you do – by using the stairs instead of the elevator, getting off the bus one stop earlier, or catching up with a friend for a walk instead of a coffee.
Adapted from: Mental Health Foundation website media releases (2017 and 2018).
My Covid Record website launches
13 October 2021
Kiwis can now view their COVID-19 vaccination records and request My Vaccine Pass through the website My Covid Record.
"We're listening to whānau, communities and business who want to see a return to a more normal life as soon as possible. My Covid Record is one tool we're putting in place to help enable us to open up New Zealand," says Michael Dreyer – Ministry of Health Group Manager, National Digital Services.
"Being fully vaccinated will help us have a classic Kiwi summer. We're making it as easy as possible for people to prove they've been vaccinated to make that happen."
My Vaccine Pass is an official record of a person's COVID-19 vaccination status and is a ticket to enjoy the extra freedoms that will come with the COVID-19 Protection Framework. The pass will mean people will be able to do the things they love, like going to concerts and music festivals, nights out at bars and restaurants, and going to the gym and sports events.
My Vaccine Pass has a QR code that can be scanned upon arrival at a venue. The pass can be downloaded to your personal phone and stored in your Apple or Google Wallet, or may be printed out.
To get a My Vaccine Pass, people will need to be fully vaccinated or be one of the very small number of Kiwis who has received a medical exemption. The pass will be issued by the Ministry of Health.
Proof of a booster shot is not required at this stage to be able to access the pass.
A separate International COVID-19 Vaccination Certificate can also be requested if you need one. This provides proof of your vaccination status in order to enter overseas countries. The application process for this certificate may take up to 14 days. People are advised to prepare all their vaccine evidence from overseas and get their applications in as soon as possible
COVID-19 test results will be available on My Covid Record.
Sources: Ministry of Health media release (13th October 2021) and Beehive media release (17th November 2021).
Gear up against Legionnaires' disease
13 September 2021
Cases of Legionnaires' disease typically increase from September to November during gardening season. Community and Public Health is urging gardeners to 'gear up' to protect themselves against Legionnaires' disease .
The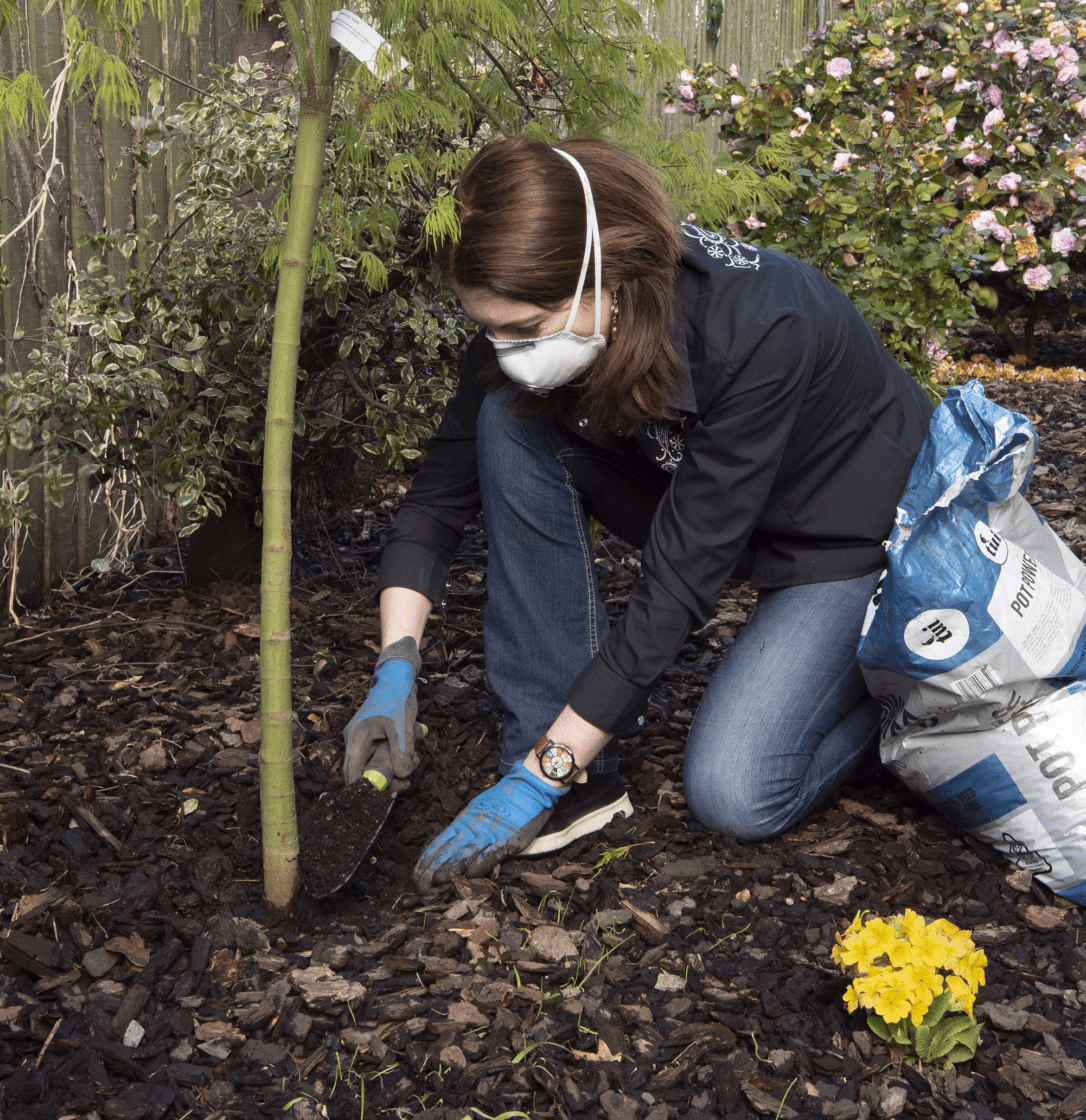 Legionella bacteria that cause Legionnaires' disease mainly live in water, soil and potting mix, and hot water cylinders. You need to be aware of the possible risk of getting Legionnaires' if you are handling garden soil, compost or potting mixes.
Gear up to avoid getting the disease when handling compost, potting mix, and garden soil. There are five easy ways to prevent our whānau, family and friends from getting Legionnaires' disease.
Mask up and wear gloves.
Use well-fitting disposable face mask and wear gloves when handling compost and potting mix.
Cut – don't rip.
Open bags of compost or potting mix carefully and away from your face using scissors.
Work outside.
Work with compost or potting mix in a well-ventilated outdoor area.
Compost dry? Damp it down.
Dampen down compost or potting mix to reduce dust.
Soap it up.
Wash your hands thoroughly with soap and water after the work is done.
Canterbury Medical Officer of Health Dr Ramon Pink says that Legionnaires' disease can start with flu-like symptoms.
"You can mistake it for the flu. Most people get high fever, muscle aches, fatigue and headache, and some get diarrhoea, vomiting and chest pains. In severe cases, people develop dry cough that could lead to pneumonia that requires hospitalisation," says Dr Pink.
Anyone can catch Legionnaires' but those most at risk are:
people over 50 years of age;
those with a long-term illness – particularly lung disease;
people with low immunity, and
smokers.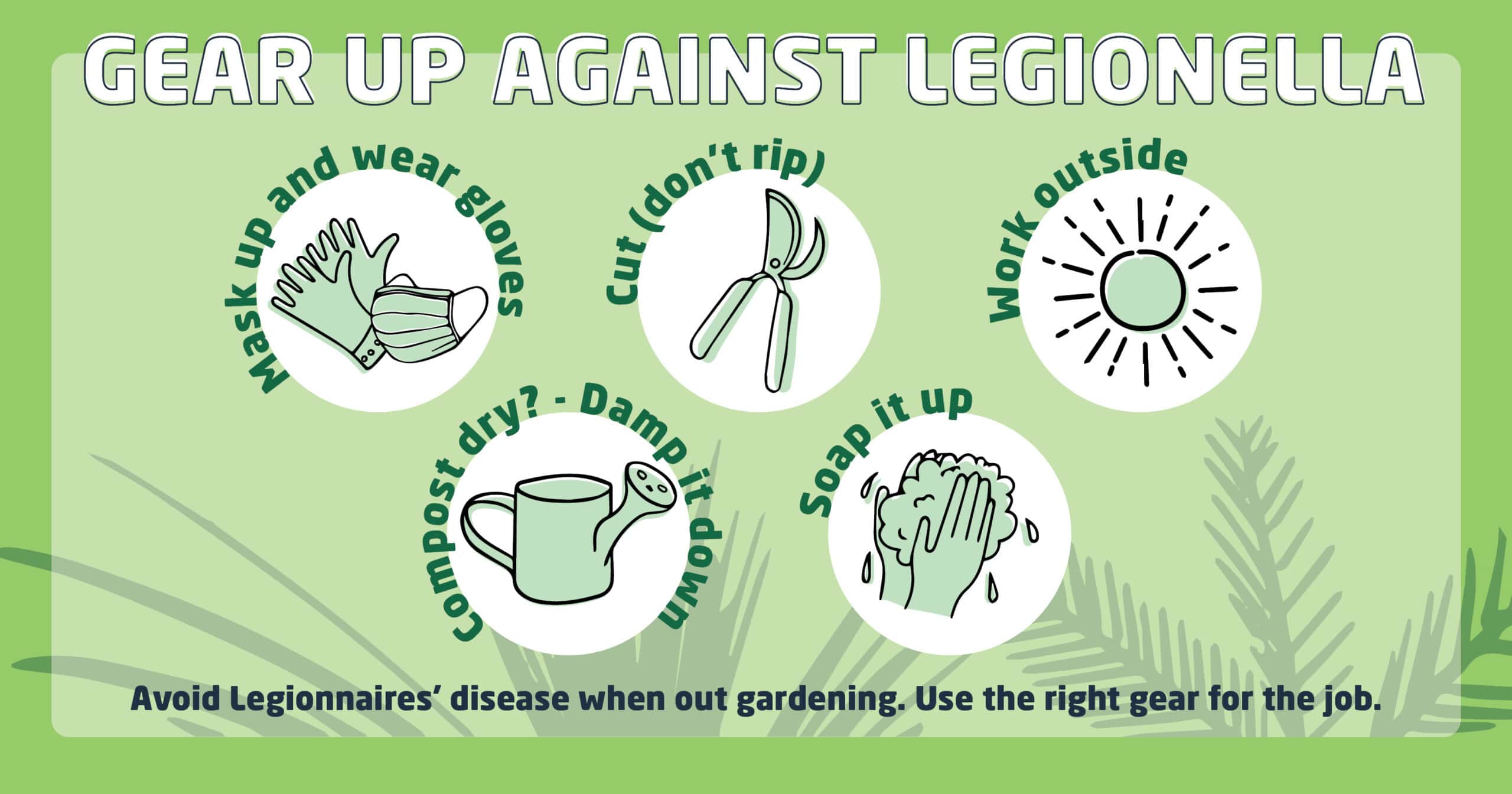 Symptoms of Legionnaire's disease to look out for
Symptoms of the disease can include:
dry coughing;
high fever;
chills;
shortness of breath;
muscle aches;
headaches; and
diarrhoea.
Anyone who gets these symptoms should see their general practice team immediately for advice, and let them know they have been handling potting mix or compost recently.
People with Legionnaires' disease require treatment with antibiotics. It is important to be diagnosed and treated quickly. Early treatment can stop the disease from becoming severe. Go back to your doctor or to hospital if your symptoms are getting worse.
Canterbury DHB media release: 24th September 2021.
Give your cervix some screen time
28 June 2021
Young New Zealand women are being encouraged to look after their cervix in a powerful media campaign designed to encourage regular cervical screening from 25 years of age.
The 'Give your cervix some screen time' campaign aims to help anyone with a cervix feel informed, empowered and motivated to protect their body and future health through regular cervical screening.
The cervix is tucked away – out of sight, out of mind. It's easy to ignore and forget. But we want to change that.
Most cervical cancer can be prevented with regular cervical screens. Cervical screening also protects your future reproductive health, whakapapa and whānau wellbeing.
Source: Health Promotion Agency.
Information on COVID-19
12 August 2020
It is not time for us to ease up on our precautions against COVID-19. We've been through a lot, and we will get through this too. We're stronger together.
Protect yourself and others from COVID-19
Stay home if you feel unwell. Isolate wherever you are and call Healthline (0800 358 5453) about a free COVID-19 test. Getting tested will help keep your community safe.
Keep a track of where you've been and who you've seen. This will help health services to quickly stop any possible spread.
Scan QR codes using the NZ COVID Tracer app – available from the Apple Store or Google Play – and enable Bluetooth tracking on your device.
Use the NZ COVID Tracer booklet – available in English and other languages – or keep a diary or calendar if you can't use the app.
Wash your hands with soap and water often – for at least 20 seconds – and dry thoroughly. This kills the virus by bursting its protective bubble.
Cough or sneeze into your elbow. This will keep the virus off your hands so you won't spread it to other people and make them sick too.
Regularly clean surfaces that get touched frequently.
Maintain physical distancing. Keep a safe distance of 2 metres from people you don't know while out and about. This will help minimise spread if community transmission returns.
Wear a face covering when visiting essential services (such as supermarkets and medical services) and on public transport or a domestic flight. You will be keeping your community safe by covering for each other.
Update on the COVID-19 Immunisation Programme
The COVID-19 Immunisation Programme is continuing to work at pace. The COVID-19 vaccine will be for everyone aged 12 years and over – regardless of their visa or citizenship status.
The vaccine will be free for everyone and no one will miss out. Having the vaccine will not be mandatory for Kiwis. The best way to protect yourself, your kaumātua and whānau is to get vaccinated.
Vaccinations will be available at a range of locations, including pop-up centres, GPs, Māori and Pacific healthcare providers, mobile clinics and community clinics.
What to do if you feel unwell
Stay home if you're unwell. Don't go to work or school. Don't socialise.
Call your medical practice or Healthline (0800 35 85 453) if you have cold, flu or COVID-19 symptoms. This is to check if you fit the criteria and need to get tested for COVID-19.
The symptoms of COVID-19 include:
a new or worsening cough;
fever;
shortness of breath;
a sore throat;
sneezing and a runny nose; or
a temporary loss of smell.
Some people may present with less typical symptoms such as only: fever, diarrhoea, headache, myalgia (muscle pain), nausea or vomiting, or confusion or irritability.
Symptoms can take up to 14 days to show after a person has been infected. The virus can be passed onto others before someone knows they have it – from up to two days before symptoms develop.
How to get tested for COVID-19
You can be tested for COVID-19 at most general practices, an after hours urgent care facility or a community-based assessment centre (CBAC).
You should contact your GP first if you are unwell and they will likely be able to offer you testing. Some practices are only testing patients who are enrolled there or by appointment.
You should attend a community-based assessment centre if:
your medical practice does not offer testing; or
if you are not registered with a medical practice team.
You do not need an appointment to attend a community based assessment centre.
Anyone who is tested should self-isolate at home until they return a negative test.
Tip: You can also use the NZ COVID Tracer app to find your nearest testing centre. Open the Dashboard and tap the 'Learn more' tile. Then tap the 'Find a testing location' link to bring up Healthpoint's list of testing centres.
Testing is free, unless you require a test for travel overseas. You must contact a medical practice if you need a COVID-19 test to travel overseas.
Stay informed from reliable sources about COVID-19
Local public health response to novel coronavirus COVID-19
Community and Public Health stood up their Emergency Operations Centre (EOC) in just two hours in late January 2020 in response to COVID-19 with staff ceasing 'business as usual' work. Every effort, hour and individual has been focused on the response since then, and will likely be the last organisation to wind down. Our staff have been involved in the local COVID-19 response in many 'behind the scenes' ways across Canterbury, South Canterbury, West Coast and the Chatham Islands.
Page last updated: 24/04/2018