News & Events
Five Ways to Wellbeing during the holiday season
27 November 2020
Are you expecting this Christmas to be stressful, either for you or someone you know?
More than a quarter of all New Zealanders feel added financial and social stresses during the festive season. The pressure is on some of us to create a magical day for our tamariki and whānau. The Kirihimete period can increase loneliness and hardship for others, with limited access to kai, transport and other services.
Try to keep in mind that the true gift of the season is our presence, not our presents.
Giving our time, our words and our presence makes others feel great, but it also lifts our own mood and makes us feel our lives have more meaning.
Christmas can be stressful – but it doesn't have to be
Here are some ways to reduce stress for you, whānau and others around you…
Spend time in nature. Over summer the pōhutukawa blossom, the sun shines more, and the days are longer. Taking a walk through the ngahere (bush), throwing the ball around with your tamariki, going to the beach or planting vegetable seeds are some great ways to connect with taiao (the environment).
Buy food on special ahead of season, when prices are lower. Buying kai early can also help manage the Christmas budget.
Find time to recharge.
Call or text 1737 If you ever feel Christmas pressure is affecting your or someone else's mental health. You don't need to keep it to yourself – their trained counsellors are always on hand to help.
Five Ways to Wellbeing: Simple things we can do to feel great
Connect (me whakawhanaunga)
Make some time in your day to connect with nature – stretch your legs outside or bring the outside in.
Go barefoot and feel the grass or sand between your toes.
Go for a swim in the sun.
Find a photo of the natural world and make it your screen saver, or adopt a potted plant.
Reach out to people you know – Skype them, call or Facebook them, or meet face to face.
Take some time to read the local newspaper or newsletter to see what's going on in your area, such as an organised group outing, musical or cultural performance or community Christmas event.
Take friends or whānau to look at Christmas lights.
Spend quality time with whānau doing things you all enjoy.
Head along to listen to Christmas carols.
Give (tukua)
'Tis the season for giving, but many of us might be a bit strapped for cash at this time. One way to shake off the financial stress is by getting creative with the holiday spirit. Give the gift of time by offering to help with someone's garden, babysit or make a gift from natural materials. You could also:
Give a smile to a stranger or a compliment to someone.
Do some Christmas arts and crafts. Bake seasonal treats to give away as presents, create decorations or reduce your card costs! Crafts are a great way to get tamariki involved in the festive spirit.
Donate some old toys, books or clothes to someone who might need some kindness.
Visit people or whānau in your community who may be a little lonely over the festive season. Rest homes and animal shelters value companionship and Christmas cheer. Random acts of kindness also do the trick!
Take notice (me aro tonu)
Every day seems to get busier and the spirit of the season can get lost in the hassle and bustle of each day. A good antidote is to take some time to learn more about what your body is telling you. If you're feeling overwhelmed and exhausted – pause, breathe in, breathe out. You could also:
Take notice of the pohutukawa flowers changing, or the night sky.
Go somewhere you've always been meaning to visit in your local area.
Find out other ways to be mindful (Mental Health Foundation).
Keep learning (me ako tonu)
There's always something new to learn, especially when you're interacting with nature.
Read up on what fruit and veggies are in season, or learn about what natural resources you have in your backyard.
Download this handy backyard treasure hunt chart and see what you can find.
You really can learn something new each day – share stories with your family, go on a bush walk, learn about the natural environment from your tablet or local library, or take a trip to the zoo or botanical gardens.
Be active (me kori tonu)
Getting outside and exercising is good for your overall health and wellbeing!
Have a lunch break outside.
Take a walk with a friend in a park.
Design a treasure hunt for your friends and family.
There are ways to bring activity into all you do – by using the stairs instead of the elevator, getting off the bus one stop earlier, or catching up with a friend for a walk instead of a coffee.
Adapted from: Mental Health Foundation website media releases (2017 and 2018).
National Bowel Screening Programme comes to Canterbury
28 October 2020
The National Bowel Screening Programme (NBSP) will officially go-live in the Canterbury DHB region from Thursday 29th October 2020. Free bowel screening kits aimed at saving lives will be sent to the homes of Canterbury people aged 60 to 74 from mid-November.
People receiving the kits are being asked to 'Start a movement that might save your life'.
90,000 people in Canterbury will be eligible to take part during the first two years of the programme.
Acting Chief Executive of the Canterbury DHB Dr Andrew Brant says this is fantastic news.
"We anticipate that investigations prompted by returned tests will enable us to treat around 1000 pre-cancerous growths and 100 or so cancers in the first year. Finding and removing them at an early stage will dramatically increase people's chance of a successful outcome.
"Screening is so important because many people would otherwise be completely unaware there might be a problem. For some people, returning their test sample could quite literally be a life-saver," Dr Brant says.
Local GP and Canterbury NBSP Primary Care Lead Dr Sue Levin says it's important to be clear that anyone with concerning symptoms such as sustained, unusual bowel movements or blood in their faeces (poo), whatever their age, should seek advice from their General Practice team.
"Whānau and friends also have an important part to play – in supporting and encouraging people to participate in the programme.
"For some people, bowel motions are a topic they find difficult to discuss.  That's why we need people who know them, to ask if they've received their kit and encourage them to Start a Movement that could save your life and return their sample straight away.
"Our Canterbury Health System is very focused on ensuring those who are most at risk receive the right information, so we'll be targeting mature members of our community and in particular our priority groups who are Māori, Pacific Peoples and people living in areas of high deprivation," says Dr Levin.
Roll out of the National Bowel Screening Programme in South Canterbury and West Coast DHBs
The National Bowel Screening Programme is also available in South Canterbury from 20th October 2020.
The programme will roll out on the West Coast in the coming months – date yet to be confirmed.
A little kit could save your or someone else's life
Those in the 60 to 74 years age group with a birthday on an even date (2, 4, 6 etc – of the month) will receive a test kit on or near their birthday under the programme. People with odd-date birthdays will receive their test kit during the second year of the programme.
The test kit itself is about the size of a large USB stick, is easy to use and accompanied by clear instructions. It is designed to pick up tiny traces of blood in your faeces (poo) and to catch cancers before they become advanced and more difficult to treat.
Look out for the kit if you are 60 to 74 years old.
When you receive it: Use it, attach the unique label that identifies the sample as yours and post it back straight away.
Tell the whānau about the National Bowel Screening Programme if you aren't 60 to 74. Encourage anyone you know in that age range to look out for their kit and to use and return it straight away.
Don't wait if you have worrying signs or symptoms such as blood in your faeces or unusual bowel movements that continue for weeks at any age. Make an appointment to see your GP team or health provider immediately. Acting now could save your life.
More information about bowel cancer
New Zealand has one of the highest rates of bowel cancer in the world and 1200 people die from this disease each year. It is the second most common cause of death from cancer.
The disease typically affects older people – which is why the National Bowel Screening Programme is aimed at people aged 60 to 74. The National Bowel Screening programme is now being implemented in most DHBs and should be nationwide by the end of 2021.
The programme began in New Zealand just over three years ago, and has:
screened more than quarter of a million people; and
detected more than 700 cancers early enough for successful treatment in 90 percent of cases.
You can reduce your risk of developing bowel cancer by:
having a healthy diet high in fruit, vegetables and fibre;
exercising regularly;
stopping smoking; and
maintaining a healthy body weight.
Source: Canterbury DHB media release (28th October 2020).
Catch up on your free vaccination to avoid catching measles
28 September 2020
People aged between 15 and 30 who haven't had their MMR (measles, mumps, rubella) vaccine, or they're not sure, are urged to get their free immunisation now.
More than 2,000 Kiwis got sick from measles in 2019 and more than 700 needed hospital treatment, while more than 80 people in Samoa – mostly children – died from the disease.
"Last year's measles outbreak and this year's COVID-19 pandemic have shown the impact infectious diseases can have when we are not immune," says Canterbury Medical Officer of Health Ramon Pink. "Now is the time to catch up on the vaccinations we have easy access to such as MMR, to protect our community and whānau in the future."
Those born between 1990 and 2005 have the lowest immunity against measles and are most at risk of catching it because a higher than usual proportion of this age group didn't have their scheduled childhood MMR vaccinations. This group is not only more likely to catch measles but also spread it to others, which is why there is now a national catch-up programme focusing on improving the immunity of this group.
About ninety-five percent of people will be protected by just one dose of MMR, while two doses ensures more than 99 percent of people are protected. The vaccine also protects against mumps and rubella. It is safe to have an MMR even if you are unsure if you have been fully immunised.
"We're urging everyone aged 15 to 30 years old to get at least one MMR vaccination to help prevent future outbreaks of measles," says Ramon. "Ask your doctor, parents or caregiver if you had two doses of MMR as a kid, and if you didn't or aren't sure, it's a good idea to get one MMR dose now."
General Practice teams across Canterbury and the West Coast have started inviting people in this age group to come in for their free measles catch up. People can also get an MMR catch up from some pharmacies if they are aged over 16.
"Measles is more than eight times more infectious than COVID-19. It can make you very sick and affect your health for the rest of your life. Getting a catch-up dose now will make sure you and those around you are protected in the future," says Ramon. MMR is also part of the childhood immunisation schedule (moving to 12 and 15 months from 1st October 2020). Anyone born after 1969 continues to be eligible for two free MMR doses.
Source: Canterbury DHB CEO Update (28th September 2020) and West Coast DHB media release (13th October 2020).
Information on COVID-19
12 August 2020
It is not time for us to ease up on our precautions against COVID-19. We've been through a lot, and we will get through this too. We're stronger together.
Protect yourself and others from COVID-19
Stay home if you feel unwell. Isolate wherever you are and call Healthline (0800 358 5453) about a free COVID-19 test. Getting tested will help keep your community safe.
Keep a track of where you've been and who you've seen. This will help health services to quickly stop any possible spread.
You can download the NZ COVID Tracer app – available from the Apple Store or Google Play – or use the NZ COVID Tracer booklet.
Wear a face covering. Please wear a face covering whenever you are on public transport, including flights. You will be keeping your community safe by covering for each other.
Wash your hands with soap and water often – for at least 20 seconds – and dry thoroughly. This kills the virus by bursting its protective bubble.
Cough or sneeze into your elbow. This will keep the virus off your hands so you won't spread it to other people and make them sick too.
Regularly clean surfaces that get touched frequently.
Maintain physical distancing. Keep a safe distance from people you don't know while out and about. This will help minimise spread if community transmission returns.
What to do if you feel unwell
Stay home if you're unwell. Don't go to work or school. Don't socialise.
Call your medical practice or Healthline (0800 358 5453) if you have COVID-19 symptoms. These include:
a new or worsening cough;
a sore throat;
a stuffy or runny nose;
fever;
temporary loss of smell; or
difficulty breathing.
You can be tested for COVID-19 at most general practices, an after hours urgent care facility or a community-based assessment centre (CBAC).
You can attend a community-based assessment centre if your medical practice does not provide testing or if you are not registered with a medical practice team. You do not need an appointment to attend a community based assessment centre.
Testing is free, unless you require a test for travel overseas. You must contact a medical practice if you need a test to travel overseas.
Stay informed from reliable sources about COVID-19
Local public health response to novel coronavirus COVID-19
Community and Public Health stood up their Emergency Operations Centre (EOC) in just two hours in late January 2020 in response to COVID-19 with staff ceasing 'business as usual' work. Every effort, hour and individual has been focused on the response since then, and will likely be the last organisation to wind down. Our staff have been involved in the local COVID-19 response in many 'behind the scenes' ways across Canterbury, South Canterbury, West Coast and the Chatham Islands.
Gardeners urged to protect themselves against Legionnaires' disease
10 August 2020
Spring is the perfect time to be out in the garden. It's also the perfect time for enthusiastic gardeners to risk unwittingly releasing Legionnaires' disease from the depths of their potting mix and compost.
Gardeners are being urged to take care with potting mix and compost – with 23 cases of the disease already confirmed in Canterbury this year. Last year there were 39 hospitalisations from Legionnaires' in Canterbury. Up to four West Coast gardeners are diagnosed with Legionnaires' each year.
Canterbury Medical Officer of Health Dr Ramon Pink says Legionnaires' disease is a form of pneumonia.
"It's caused by the Legionella bacteria that live in moist organic material. People can catch the disease by inhaling airborne droplets or particles containing the bacteria. Gardeners are at particularly high risk of catching Legionnaires' disease as the bacteria thrives in bags of potting mix and compost," says Dr Pink.
There is typically a spike in cases in early November that can be attributed to the increased gardening activity from Labour Weekend onwards. Now is the time for people to take the necessary steps to avoid catching the disease.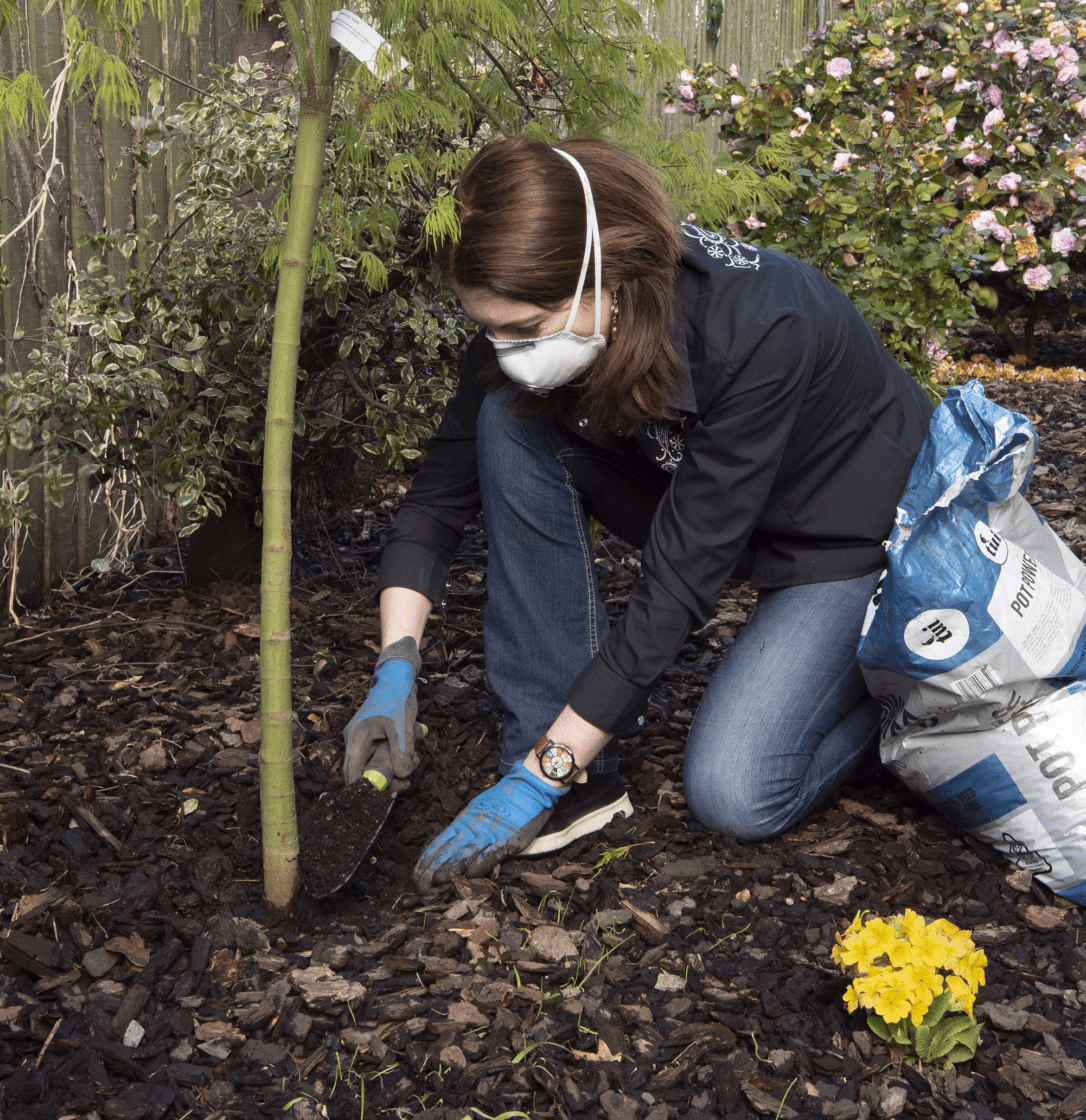 Five simple steps to avoid Legionnaire's disease from potting mix or compost
It is important that gardeners follow these five simple steps to avoid catching Legionnaires' disease from potting mix or compost:
Open bags of compost or potting mix carefully – use scissors instead of ripping the bag
Wear a well-fitting disposable face mask and gloves. Remember not to touch your mask while gardening.
Dampen down the potting mix or compost with a sprinkle of water to reduce dust.
Work with potting mix or compost in a well-ventilated area outside.
Wash your hands thoroughly after handling potting mix or compost, or doing any gardening.
"Legionnaires' is a very serious illness and these simple actions can be lifesaving" says Dr Pink.
The illness may be mild but can sometimes be fatal. It is more common in older people, particularly if they smoke, have poor immunity or a chronic illness. However healthy young people sometimes have died from legionella pneumonia.
Symptoms of Legionnaire's disease to look out for
Symptoms of the disease can include:
dry coughing;
high fever;
chills;
shortness of breath;
muscle aches;
headaches; and
diarrhoea.
Anyone who gets these symptoms should see their general practice team immediately for advice, and let them know they have been handling potting mix or compost recently.
Canterbury and West Coast DHBs media release: 22nd October 2020.
Page last updated: 24/04/2018