News & Events
Cantabrians urged to protect themselves against Legionnaires' disease
10 August 2020
People are more inclined to head outside and get stuck into their gardens as the days get longer and warmer. This comes with an increased risk of catching Legionnaires' disease. So gardeners are being urged to take care with potting mix and compost.
Canterbury Medical Officer of Health Dr Ramon Pink says Legionnaires' disease is a form of pneumonia.
"It's caused by the Legionella bacteria that live in moist organic material. People can catch the disease by inhaling airborne droplets or particles containing the bacteria. Gardeners are at particularly high risk of catching Legionnaires' disease as the bacteria thrives in bags of potting mix and compost," says Dr Pink.
There is typically a spike in cases in early November in Canterbury. This can be attributed to the increased gardening activity from Labour Weekend onwards. Now is the time for people to take the necessary steps to avoid catching the disease.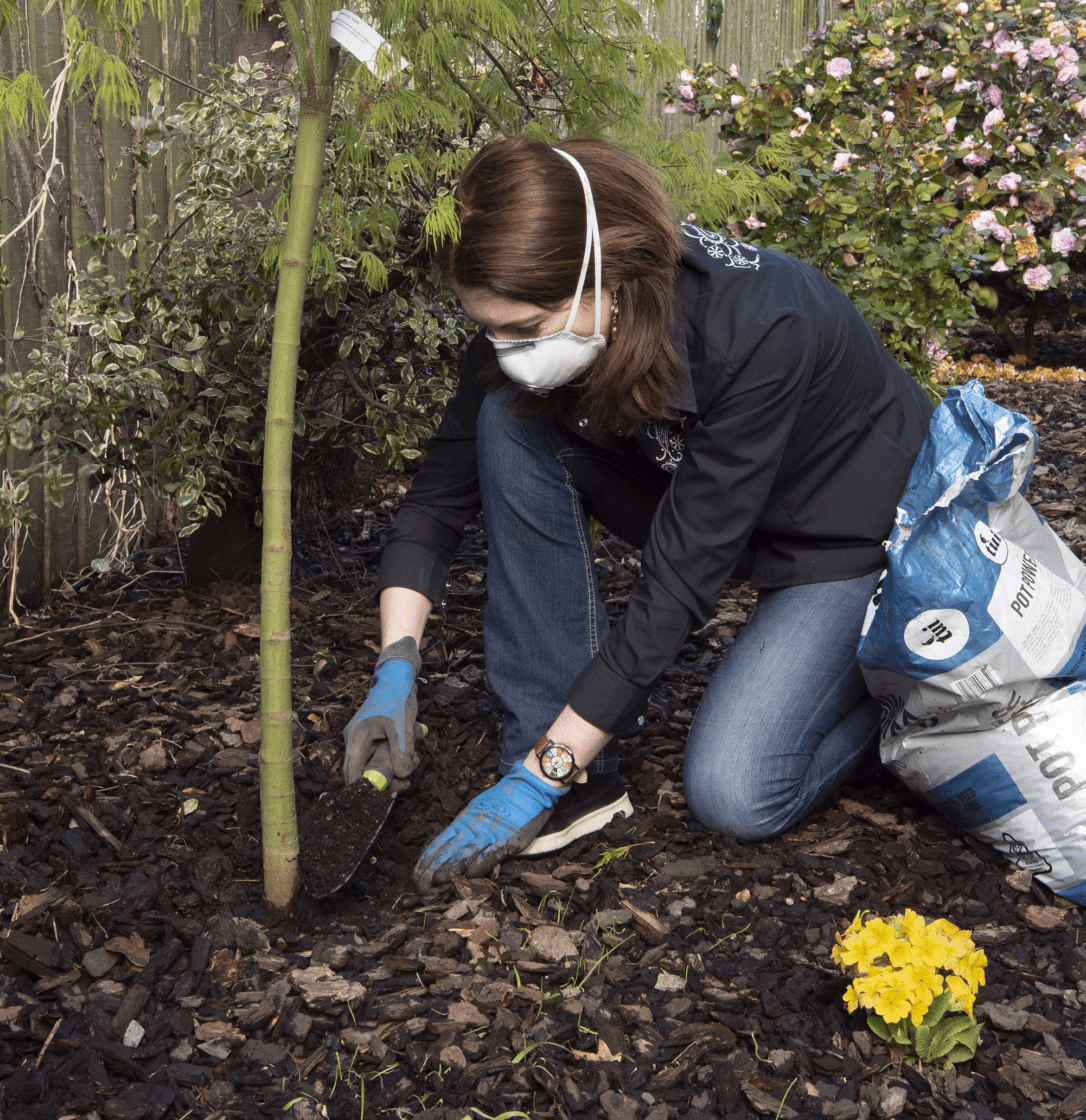 Five simple steps to avoid Legionnaire's disease from potting mix or compost
It is important that gardeners follow these five simple steps to avoid catching Legionnaires' disease from potting mix or compost:
Open bags of compost or potting mix carefully – use scissors instead of ripping the bag
Wear a well-fitting disposable face mask and gloves. Remember not to touch your mask while gardening.
Dampen down the potting mix or compost with a sprinkle of water to reduce dust.
Work with potting mix or compost in a well-ventilated area outside.
Wash your hands thoroughly after handling potting mix or compost, or doing any gardening.
"Legionnaires' is a very serious illness and these simple actions can be lifesaving" says Dr Pink.
The illness may be mild but can sometimes be fatal. It is more common in older people, particularly if they smoke, have poor immunity or a chronic illness. However healthy young people have died from legionella pneumonia.
Symptoms of Legionnaire's disease to look out for
Symptoms of the disease may include:
dry coughing
high fever
chills
diarrhoea
shortness of breath
chest pains
headaches
excessive sweating
nausea
vomiting, and
abdominal pain.
Anyone who gets these symptoms should see their general practice team immediately, and let them know they have been handling potting mix or compost recently.
Influenza: Don't get it, don't give it
14 April 2020
Influenza is caused by different strains of influenza viruses. Around one in four New Zealanders are infected with influenza or 'flu' each year. Influenza can be anywhere, and is highly contagious.
Immunisation is the best protection against influenza. Your flu symptoms are less likely to be severe even if you still catch influenza after immunisation.
Get immunised to stop the spread of influenza around your community. You could still be infected with flu even if you don't feel sick, and pass it on to others. Reduce the spread of flu if you are sick by:
staying away from others including crowded places or events;
regular washing your hands often for at least 20 seconds and drying them for 20 seconds or using hand sanitiser; and
covering your mouth and nose when sneezing or coughing – into a tissue, clothing or the inside of your elbow. Remember to put tissues in a lined bin.
Having an influenza immunisation every year can keep older people healthy and active for longer. Older people and those with certain medical conditions are also more likely to be affected by the flu. This is because influenza can make an existing medical condition worse (including asthma and diabetes), or increase the risk of complications such as pneumonia or heart failure.
Having the influenza immunisation during pregnancy helps protect the mother and her baby against influenza.
Stay at home from work, school or preschool if you have the flu so that you don't spread it to others. Even a mild case of influenza can disrupt your everyday activities with family, friends, community and work.
Influenza is more than just a 'bad cold' – it is a serious illness that can put anyone in hospital or even kill them, including young and healthy people. Symptoms may vary with age, immune status and health of the individual and include fever, sore throat, muscle aches, headache, cough, fatigue and generally feeling miserable. The fever and body aches can last for up to 5 days, and the cough and fatigue may last for two or more weeks.
Influenza vaccination is FREE for those who need it most
Getting immunised each year as early as possible before winter hits gives the best protection. This protection can last until next year.
You need to get the flu vaccine each year as protection from the previous vaccination lessens over time, and the flu strains in the vaccine often change each year. Over a million New Zealanders get the annual immunisation against influenza.
The influenza vaccine is safe, effective and cannot give you "the flu".
Contact your general practice or local pharmacy to organise getting the FREE seasonal influenza vaccine now if you are in any of the following eligible groups:
People aged 65 years or over.
Pregnant women – at any stage or trimester in the pregnancy.
Children aged 4 years and under who have been hospitalised for asthma or other breathing problems or have a history of significant respiratory illness.
People under 65 years with one or more of the following medical conditions:

Asthma – if on a regular preventative therapy – or other chronic respiratory diseases;
Diabetes
Chronic renal disease;
Cancer – excluding basal and squamous skin cancers if not invasive; or
Other conditions (such as autoimmune diseases, transplant recipients, neuromuscular and central nervous systems diseases, and haemoglobinopathies).
Information on COVID-19
2 April 2020
Protect yourself and others with good hygiene
Cough or sneeze into your elbow or by covering your mouth and nose with tissues. Put used tissues in a bin or bag immediately.
Wash your hands with soap and water often (for at least 20 seconds) and dry thoroughly:
before eating or handling food;
after using the toilet;
after coughing, sneezing, blowing your nose or wiping children's noses; and
after caring for sick people.
Avoid close contact with people who are unwell. Also avoid personal contact with sick people, such as kissing and sharing cups or food.
Avoid touching your eyes, nose or mouth.
Clean and disinfect frequently touched surfaces and objects, such as doorknobs.
Stay home if you feel unwell. Minimise close contact even in your home.
People living in communal spaces must be especially careful with distancing, cleaning and general hygiene.
Practice low-touch shopping:
Do not handle things you are not buying;
Be aware of how you are touching things like bank cards, money, ATMs and Eftpos machines; and
Wash your hands as soon as you can after touching things others have touched.
If you are a business or provide a service: Increase your cleaning routine in between customers.
Call Healthline (0800 358 5453) or phone your medical practice if you have COVID-19 symptoms. These include a high fever, cough and difficulty breathing.
Stay informed from reliable sources about COVID-19
Local public health response to novel coronavirus COVID-19
Community and Public Health stood up their EOC in just two hours in late January 2020 in response to COVID-19 with staff ceasing 'business as usual' work. Every effort, hour and individual has been focused on the response since then, and will likely be the last organisation to wind down. Our staff have been involved in the local COVID-19 response in many 'behind the scenes' ways across Canterbury, South Canterbury, West Coast and the Chatham Islands.
Canterbury Resilience Hub: A one stop shop for health and wellbeing support
29 May 2019
The Canterbury DHB has launched the Canterbury Resilience Hub website – a central point for health and wellbeing advice and practical support services information.
The Canterbury Resilience Hub website was established following the attacks on two mosques in Christchurch on 15th March 2019.
"Many people were deeply affected by these events. Canterbury DHB recognised the need to consolidate health and wellbeing resources in one place to make it easier for people to navigate the range of support materials and services available," says Canterbury DHB Chief Executive David Meates.
The Canterbury Resilience Hub site is designed to meet the needs of three main user groups:
those needing support;
those supporting others; and
professionals supporting others.
The Canterbury Resilience Hub website is led by the Canterbury DHB and expands beyond the health system and connects people to information about education, housing, financial, immigration assistance, social supports and other resources.
"We know from experience that recovery from disasters and emergencies is complex and takes time. As we move from the response to the recovery phase, we need to ensure that people continue to access the help and information they need, when they need it. This new website aims to make that process easier and more inclusive," says David.
Canterbury has faced more than its share of disasters in recent years, with the earthquakes and mosque attacks impacting many. The Canterbury Resilience Hub website will be available to provide information related to any future natural disasters or emergencies.
Source: Canterbury District Health Board media release (28th May 2019).
Page last updated: 24/04/2018