Stop men dying too young this Movember
Men are facing a health crisis that isn't being talked about. They are dying too young, before their time.
Men experience worse longer-term health than women and die on average six years earlier.
Prostate cancer rates will double in the next 15 years.
Testicular cancer rates have already doubled in the last 50.
Three quarters of suicides are men. Poor mental health leads to half a million men taking their own life every year. That's one every minute.
Our sons, fathers, partners, brothers and friends are affected and we can't afford to stay silent.
The goal of the Movember Foundation is to reduce the number of men dying prematurely by 25 percent by 2030.
Movember is about bringing back the moustache (Mo), having fun and doing good to change the face of men's health, specifically prostate cancer, testicular cancer and mental health problems.
Mo Bros take action by changing their appearance through the growth of a new moustache for the 30 days of Movember, and in doing so become walking, talking billboards for men's health.
You can also challenge yourself to move for men's health. Take the Move Challenge and get physically active this Movember. The challenge is to get active and MOVE every day of Movember – 30 MOVEs in 30 days. No MOVE is too big or small. You could try or learn something new, work out in costume or even take part in an event.
Women can sign up and commit to supporting the men in their lives while helping to promote men's health at home, in the workplace and within their community.
Remember Don't Mo Alone! There is strength in numbers, so recruit your workplace, your friends and your community to join the hairy or movement journey by creating or joining a Movember team.
Sign up to become a Mo Bro or join the Move Challenge.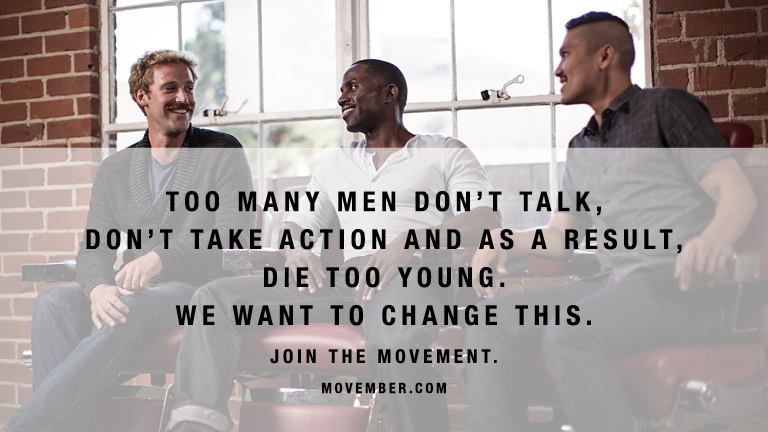 Published on Monday, October 17th, 2016, under
Uncategorised
Page last updated: 01/12/2017