Stop men dying too young this Movember
Men are facing a health crisis that isn't being talked about. They are dying too young, before their time. Men die on average six years younger than women and for reasons that are largely preventable.
3800 New Zealand men are diagnosed with prostate cancer each year. Many are dealing with serious side effects from treatment.
Testicular cancer is the most common cancer in young Kiwi men aged 18 to 39.
6 of of 10 suicides around the world are men. Poor mental health leads to half a million men taking their own life every year globally. That's one every minute on average.
Our sons, fathers, partners, brothers and friends are affected and we can't afford to stay silent.
Movember is about bringing back the moustache (Mo), having fun and doing good to change the face of men's health, specifically prostate cancer, testicular cancer, mental health and suicide prevention.
Mo Bros take action by changing their appearance through the growth of a new moustache for the 30 days of Movember, and in doing so become walking, talking billboards for men's health.
You can also challenge yourself to move for men's health. Commit to running or walking 60km over the month at your own pace. That's 1km for each man we lose to suicide each hour across the world.
Host a Mo-ment get-together to raise funds for men's health. This is a great way for community groups, sports clubs, workplaces or education providers to support Movember.
Women can sign up and commit to supporting the men in their lives while helping to promote men's health at home, in the workplace and within their community.
Remember Don't Mo Alone! There is strength in numbers, so recruit your workplace, your friends and your community to join the hairy or movement journey by creating or joining a Movember team.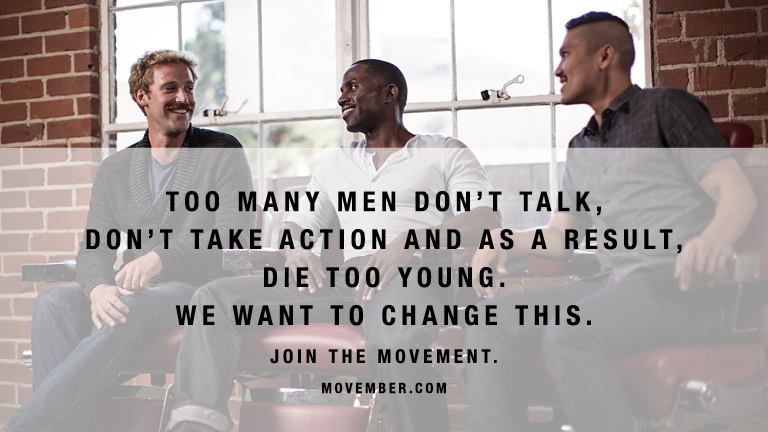 Published on Tuesday, October 29th, 2019, under
Events
Page last updated: 25/10/2019