Reimagine wellbeing together during Mental Health Awareness Week
Mental Health Awareness Week will be held from Monday 21st to Sunday 27th September 2020.
This year hasn't been easy. Many of us have had to reconsider the experiences, actions and surroundings that make us feel good, stay well, and uplift our wellbeing. Mental Health Awareness Week (MHAW) is therefore more timely than ever! It's an opportunity for us all to redefine and rediscover what wellbeing looks and feels like – during COVID-19 and beyond.
So join the Mental Health Foundation to reimagine wellbeing together – He tirohanga anamata – whether you've got wellbeing tools in your kete/ basket to share, or you're looking for new ways to give yourself a boost.
Get more information about Mental Health Awareness Week, including how to order resources. There are specific guides for individuals and communities, schools/ kura and workplaces.
Mental Health Awareness Week is underpinned by Te Whare Tapa Whā. This is a Māori health model that describes health as a wharenui/meeting house with four walls. These walls represent taha wairua/spiritual wellbeing, taha hinengaro/mental and emotional wellbeing, taha tinana/physical wellbeing and taha whānau/family and social wellbeing. Our connection with the whenua/land forms the foundation.
He Tirohanga Anamata means a glance into our future. It recognises Māori wellbeing principles and philosophies of past, present and future, and welcomes the notion of progressing forward, together. He Tirohanga Anamata revisits Te Whare Tapa Whā as a navigation tool for reimagining wellbeing together.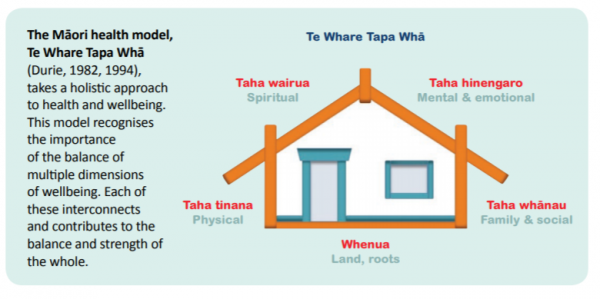 Source: Mental Health Awareness Week website.
Published on Tuesday, September 1st, 2020, under
Events
Page last updated: 17/09/2020