News & Events
Explore your way to wellbeing during Mental Health Awareness Week
12 August 2019
Mental Health Awareness Week will be held from Monday 23rd to Sunday 29th September 2019.
The theme of Mental Health Awareness Week 2019 is Explore your way to wellbeing – Whāia te ara hauora, Whitiora.
Discover the things that make you feel good and do more of them! When you uplift your personal wellbeing, you uplift the wellbeing of your whānau, communities and Aotearoa as a whole.
Get more information about Mental Health Awareness Week, including how to order resources. There are specific guides for individuals and communities, schools and kura and workplaces this year.
Mental Health Awareness Week 2019 is underpinned by Te Whare Tapa Whā. This is a Māori health model that describes health as a wharenui/meeting house with four walls. These walls represent taha wairua/spiritual wellbeing, taha hinengaro/mental and emotional wellbeing, taha tinana/physical wellbeing and taha whānau/family and social wellbeing. Our connection with the whenua/land forms the foundation.
Find out more about exploring your way to wellbeing through: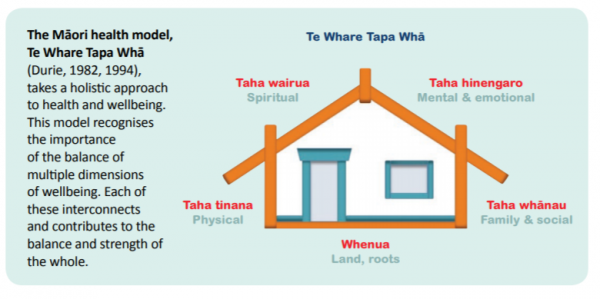 Source: Mental Health Awareness Week website.
Take time out during Gambling Harm Awareness Week
8 August 2019
Gambling is meant to be fun and social, but it can easily become a problem. Gambling harm can escalate quickly, damaging relationships, whānau, finances and hopes for the future.
It is important to recognise when gambling is no longer just for fun and may be starting to cause harm.
There are some things we can all do to change this situation. Evidence shows that spending time with a loved one and sharing rewarding activities together (like fishing or sharing kai) is a practical way to beat gambling harm.
Gambling Harm Awareness Week (2nd to 8th September 2019) is about:
Raising awareness of gambling harm in Aotearoa; and
You can call 0800 654 655 or text to 8006 for 24-hour information and support if you are concerned about someone else's gambling or wondering about your own gambling.
Pause the pokies initiative
The Problem Gambling Foundation, Mapu Maia and Asian Family Services are running an initiative called Pause the Pokies.
Pause the Pokies invites a venue to turn off its pokie machines for one hour during Gambling Harm Awareness Week.
Pause the Pokies gives venues an opportunity to stand in solidarity with individuals, families and the community and provides a platform to raise publicity around the issue of gambling harm. It is hoped that this small interuption will cause gamblers to pause, reflect and seek assistance from a local face-to-face support services.
Some facts about gambling and gambling harm in New Zealand
Every day New Zealanders lose on average $6.4 million on gambling – that's around $2.3 billion each year.
Around $870 million is lost on pokie machines in pubs and clubs each year. Each machine takes on average $55,5655 out of its players' pockets each year!
It's likely that 186,000 Kiwis are experiencing a level of gambling-related harm –  the same as the population of Rotorua!
People who bet on pokies, sport or racing at least monthly are most at risk of gambling harm – half pokie players and 1 in 4 sports or racing players experience a level of harm.
Around 1 in 10 people who buy Lotteries Commission products at least monthly are likely to experience a level of harm.
Māori, Pacific and Asian gamblers are disproportionally affected by gambling harm – up to 3 times more likely that NZ European/ Pakeha gamblers.
Friends and whānau are commonly affected. 1 in 5 New Zealand adults have been affected at some time in their lives by their own gambling or the gambling of others.
Gambling harm can negatively impact finances, damage relationships, disrupt work and study, and lead to emotional and psychological distress.
Sources: Health Promotion Agency and Choice not Chance websites.
Give generously on Daffodil Day
12 July 2019
The daffodil is one of the first flowers of spring, whose bright yellow blooms remind us of the joys the new season will bring. It also represents hope for the 1 in 3 New Zealanders affected by cancer.
Daffodil Day (Friday 30th August 2019) is a major funding source for the Cancer Society, as well as an opportunity to raise awareness of cancer in New Zealand.
You can help by volunteering as a Daffodil Day collector – over 8,000 collectors are needed nationwide to ensure Daffodil Day is a success.
Ways you can donate to Daffodil Day
Make a cash donation to an official street collector on Daffodil Day in exchange for a daffodil or other merchandise;
Make a cash donation at any ANZ Bank branch; or
You can also fundraise your way with Paint August Yellow. Have a yellow themed dress-up day, hold a bake sale, host a morning tea or do a raffle.
How your Daffodil Day donations make a difference
Your donations will go towards vital scientific research into the causes and treatment of all types of cancer, as well as providing a wide range of support services, education and awareness campaigns or programmes for people affected by cancer in your area.
There are many ways a donation makes a difference for people with cancer:
$10 provides people affected by cancer with important support and information resources;
$20 contributes to the free Cancer Information Helpline – 0800 CANCER (0800 226 237);
$35 provides petrol for volunteers to drive people to hospital appointments;
$50 offers counselling and support to people affected by cancer;
$100 helps make schools SunSmart and our communities Smokefree;
$150 provides accommodation for those undergoing cancer treatment away from home; and
$500 helps fund ground-breaking research into new and better ways to prevent, diagnose or treat cancer.
Any donation will make a difference in the life of someone living with cancer – no matter how large or small.
Find out more about the services provided by the Cancer Society NZ.
Source: Daffodil Day website.
Page last updated: 23/04/2018