News & Events
Switch to Water Challenge: Kick start a healthy summer
24 October 2017
The Switch to Water challenge is all about switching your sugary drinks to water for 30 days. Yes, it is as simple as that!
This challenge helps you to set a realistic goal to reduce the amount of sugar you consume. The aim of this challenge is to build better habits, with water becoming your drink of choice over time.
It is easy to take the Challenge. Simply sign up and commit to switching your sugary drinks to water for 30 days. You can start the challenge between Wednesday 1st to Monday 20th November 2017.
Adults can choose to take the challenge on their own or as part of a workplace team. Kids can take the Challenge by registering as a school team.
Download resources that support the Switch to Water challenge:
Source: NZ Dental Association.
November is Diabetes Action Month
16 October 2017
More than 257,000 New Zealanders now live with diabetes. Also a significant number of people in New Zealand now have pre-diabetes. Every day 50 more people are diagnosed with diabetes.
Diabetes is diagnosed when a person has too much glucose (sugar) in the blood. This happens because the pancreas cannot make enough insulin to keep blood glucose levels in the normal range.
Diabetes cannot presently be cured but it can be controlled and you can lead a full and active life.
Visit the Diabetes New Zealand website for more information about diabetes.
You could be at risk of developing Type 2 diabetes if you:
Are European descent aged 40 years or older.
Have diabetes in your family (grandparents, parents, brothers or sisters).
Are Maori, Asian, Middle Eastern or Pacific Island descent aged 30 years or older.
Have high blood pressure.
Are overweight – especially if you carry most of your weight around your waist.
Are diagnosed as having pre-diabetes or impaired glucose tolerance. This occurs when the glucose (sugar) in your blood is higher than normal, but not high enough to be called diabetes.
Gave birth to a large baby weighing more than 4kg (9lbs)
Had high blood glucose (hyperglycaemia) or diabetes during pregnancy.
Have had high blood glucose in the past.
Fortunately up to 70% of cases of type 2 diabetes could be prevented through the adoption of a healthy lifestyle. 70% of premature deaths among adults are largely due to behaviour initiated when they were teenagers.
There are some changes you can make to try and avoid type 2 diabetes developing, including:
Stay physically active and get regular exercise – aim for at least 30 minutes of moderate physical activity each day. Remember you don't have to do all of your daily exercise at once.
Eat healthy food.
Keep your weight in a healthy range.
Get more information about how to reduce your risk of type 2 diabetes (HealthInfo Canterbury).
Source: Diabetes New Zealand website.
Stop men dying too young this Movember
17 October 2016
Men are facing a health crisis that isn't being talked about. They are dying too young, before their time.
Men experience worse longer-term health than women and die on average six years earlier.
Prostate cancer rates will double in the next 15 years.
Testicular cancer rates have already doubled in the last 50.
Three quarters of suicides are men. Poor mental health leads to half a million men taking their own life every year. That's one every minute.
Our sons, fathers, partners, brothers and friends are affected and we can't afford to stay silent.
The goal of the Movember Foundation is to reduce the number of men dying prematurely by 25 percent by 2030.
Movember is about bringing back the moustache (Mo), having fun and doing good to change the face of men's health, specifically prostate cancer, testicular cancer and mental health problems.
Mo Bros take action by changing their appearance through the growth of a new moustache for the 30 days of Movember, and in doing so become walking, talking billboards for men's health.
You can also challenge yourself to move for men's health. Take the Move Challenge and get physically active this Movember. The challenge is to get active and MOVE every day of Movember – 30 MOVEs in 30 days. No MOVE is too big or small. You could try or learn something new, work out in costume or even take part in an event.
Women can sign up and commit to supporting the men in their lives while helping to promote men's health at home, in the workplace and within their community.
Remember Don't Mo Alone! There is strength in numbers, so recruit your workplace, your friends and your community to join the hairy or movement journey by creating or joining a Movember team.
Sign up to become a Mo Bro or join the Move Challenge.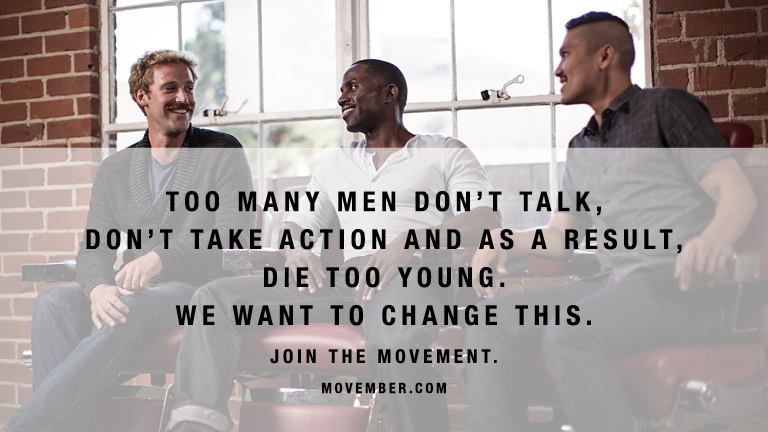 Page last updated: 23/02/2016