News & Events
Pink Shirt Day: Stop bullying and spread kindness
16 September 2020
Join the Pink Shirt Day movement on Friday 16th October 2020 to stop bullying and spread kindness. Speak Up, Stand Together, Stop Bullying – Kōrero Mai, Kōrero Atu, Mauri Tū, Mauri Ora!
Pink Shirt Day aims to reduce bullying in Aotearoa by celebrating diversity in all its forms and supporting workplaces, communities and schools to be safe, supportive, welcoming and inclusive of all people. All people can be the target of bullying, but some groups or individuals experience more bullying than others. Lesbian, gay, bisexual, transgender, queer, intersex, asexual and other sexuality and gender diverse identities (LGBTQIA+) people experience higher levels of bullying.
Pink Shirt Day is about creating a community where all people feel safe, valued and respected, regardless of age, sex, gender identity, sexual orientation, ability, or cultural background.
Bullying can have serious and ongoing impacts on people's mental health and wellbeing. Many studies that show that people who are bullied are more likely to experience mental health issues, such as depression, anxiety and even suicidal thoughts. Mental health problems – like other health conditions – can affect a person's work and cause substantial costs to organisations. Workplaces have a legal responsibility under the Health and Safety at Work Act to manage risks to mental health and wellbeing just like they do any other health and safety risk.
How you can get involved with Pink Shirt Day
Register as an individual or for your school or workplace to join the Pink Shirt movement.
The Pink Shirt Day website has lots of great ideas and ways you can show your support including:
posters or email signatures you can download; and
resources and merchandise that you can order.
Some facts about bullying
It isn't uncommon to hear someone say something insensitive or mean to someone else. These comments or actions are not okay, but bullying has some specific features that make it much more serious and harmful.
Bullying is deliberate – harming another person intentionally.
Bullying involves a misuse of power in a relationship.
Bullying is usually not a one-off – it is repeated, or has the potential to be repeated over time.
Bullying involves behaviour that can cause harm – it is not a normal part of growing up.
Bullying can be:
physical – hitting, tripping up;
verbal – insults, threats;
social – spreading gossip or excluding people; or
cyberbullying – bullying online, via the internet, mobile phones and social media. It's a common form of bullying, especially amongst young people.
Bullying harms the person being bullied, the person doing the bullying and can also harm those who witness it (bystanders).
We know people are more likely to be bullied if they seem different from their peers in some way. This might include being clever or popular, differences in race, sexuality, gender identity, ethnicity, religion, disabilities and abilities, weight or height.
It's really important to remind people that it's okay to be different from others and it's not okay to bully people because they are not the same as you.
Source: Pink Shirt Day website.
Think about food security on World Food Day
Grow, Nourish, Sustain. Together.
The COVID-19 global health crisis has been a time to reflect on things we truly cherish and our most basic needs. These uncertain times have made many of us rekindle our appreciation for a thing that some take for granted and many go without: food. World Food Day 2020 (16th October) is launching a call for global solidarity to help the most vulnerable people to recover and make food systems more sustainable, stronger and resilient to shocks.
Food is the essence of life and the bedrock of our cultures and communities. Preserving access to safe and nutritious food is and will continue to be an essential part of the response to the COVID-19 pandemic – particularly for poor and vulnerable communities who are hit hardest by the pandemic and resulting economic shocks.
It is more important than ever in a moment like this to recognise the need to support our food heroes – farmers and workers throughout the food system – who are making sure that food makes its way from farm to fork even amid disruptions as unprecedented as the current COVID-19 crisis.
More than 2 billion people do not have regular access to safe, nutritious and sufficient food.
About 135 million people across 55 countries experience acute hunger requiring urgent food, nutrition, and livelihoods assistance.
The global population is expected to reach almost 10 billion by 2050 – significantly increasing the demand for food.
Approximately 14 percent of the food produced for consumption globally each year is lost before reaching the wholesale market.
Undernourishment and malnutrition will greatly increase by 2050 if our food systems are not transformed. The consequences could worsen due to income inequality, unemployment, or poor access to services.
More than 3 billion people in the world lack access to the Internet – most of them in rural and remote areas. Smallholder farmers need greater access to innovation, technology, finance and training to improve their livelihoods.
Intensified food production, combined with climate change, is causing a rapid loss of biodiversity. Only nine plant species currently account for 66 percent of total food crop production.
Poor diets and sedentary lifestyles have led to soaring obesity rates in developed countries and also low-income countries, where hunger and obesity often coexist. No region is exempt.
Find out more about World Food Day (Food and Agriculture Organisation of the United Nations).
What you can do to impact food security
Everyone across our food sector plays an important role in ensuring nutritious food is available – but you can make a difference too! Consumers are more than just eaters. You also have the power to influence what is produced through healthy food choices, which in turn contributes to more sustainable food systems. Here's a list of everyday actions to become a food hero and make healthy food part of your lifestyle.
Choose healthy and diverse: A healthy diet contributes to a healthy life. When we choose to eat diverse foods, we encourage a variety of foods to be produced. This is not only healthier for our bodies, but heathier for soils and our environment because a diverse diet favours biodiversity!
Influence positive will: You can use your voice or social media platform to promote healthy eating and buying habits. You can get people talking about important events like World Food Day (#WorldFoodDay) and create a buzz for #FoodHeroes. Word of mouth spreads fast and can be just as effective as social media!
Join initiatives: Anyone can be an ally to food heroes. Look for volunteer opportunities at your local food bank or community kitchen. It's a great way to be involved in collective action and support those who struggle to access food.
Choose local: Support food heroes by buying locally grown fresh food whenever you can,  such as from a farmers' market in your community. This will help the smallholder farmers that produced the food, your local economy and you are also encouraging crop diversity.
Choose seasonal: Reduce your carbon footprint by buying produce that's in season. Food that is out of season in one part of the world has to be imported and travel a long way before it arrives at your local market. Eating seasonal food can also be riper, tastier and more nutritious.
Grow food at home: You can learn how to grow your own fruits, vegetables and herbs if you have a green space at home, access to a garden, or a balcony with space for plant pots. You'll learn a lot about how food is produced and grow your appreciation for all the work that goes into cultivating produce.
Respect food and food heroes: Food loss and waste can occur throughout the food system. You can play your part once it arrives at your table! Learning how to store uneaten food properly for another day's meal is one way to avoid wasting perfectly good food.
Support development initiatives: Support development initiatives such as school meal and nutrition programmes in your local community. You will raise awareness about the importance of eating well and promote healthy eating through education.
Support food-related business and retailers: Everyone can be an activist and put pressure on governments, private sector businesses and decision-makers to transform our food systems by making healthy food options more enticing, available and accessible; providing decent employment and protection; and sharing innovative technologies.
Source: Food and Agriculture Organisation of the United Nations (FAO).
Gear up for Biketober
7 September 2020
Join this month-long celebration of cycling in Christchurch.
Biketober is is all about giving cycling a go. There will be something for you this October whether you ride a bike already, would like to try, or just want to join the fun,! So grab a bike, view the events and join the fun!
The organisers hope to show you that cycling is a great way to get from A to B, whatever your bike or your purpose.
Biketober coincides with the return of spring – the perfect season for shaking off the winter blues and enjoying some sunshine on a bike!
Events happening during Biketober
A variety of events and activities are planned in the city, including:
social bike rides;
exhibits, presentations and movies;
bike maintenance and repair workshops, and more!
Find out more about Biketober in Christchurch, including a full programme of events.
There's a Biketober Passport in the making. You can get your passport stamped at as many of the participating venues, then come along to the Passport Prize Giving on Saturday 26th October for a chance to win some great prizes.
Reimagine wellbeing together during Mental Health Awareness Week
1 September 2020
Mental Health Awareness Week will be held from Monday 21st to Sunday 27th September 2020.
This year hasn't been easy. Many of us have had to reconsider the experiences, actions and surroundings that make us feel good, stay well, and uplift our wellbeing. Mental Health Awareness Week (MHAW) is therefore more timely than ever! It's an opportunity for us all to redefine and rediscover what wellbeing looks and feels like – during COVID-19 and beyond.
So join the Mental Health Foundation to reimagine wellbeing together – He tirohanga anamata – whether you've got wellbeing tools in your kete/ basket to share, or you're looking for new ways to give yourself a boost.
Get more information about Mental Health Awareness Week, including how to order resources. There are specific guides for individuals and communities, schools/ kura and workplaces.
Mental Health Awareness Week is underpinned by Te Whare Tapa Whā. This is a Māori health model that describes health as a wharenui/meeting house with four walls. These walls represent taha wairua/spiritual wellbeing, taha hinengaro/mental and emotional wellbeing, taha tinana/physical wellbeing and taha whānau/family and social wellbeing. Our connection with the whenua/land forms the foundation.
He Tirohanga Anamata means a glance into our future. It recognises Māori wellbeing principles and philosophies of past, present and future, and welcomes the notion of progressing forward, together. He Tirohanga Anamata revisits Te Whare Tapa Whā as a navigation tool for reimagining wellbeing together.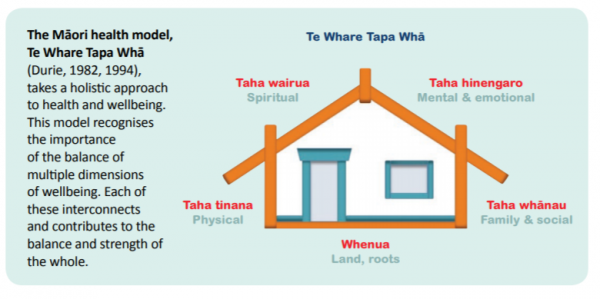 Source: Mental Health Awareness Week website.
Page last updated: 23/04/2018