News & Events
World Oral Health Day: Healthy mouth, healthy body
19 February 2021
World Oral Health Day (WOHD) is celebrated every year on 20th March. It is an international day to celebrate the benefits of a healthy mouth and to promote awareness of oral health issues and the importance of oral hygiene for everyone old and young.
Having a healthy mouth is important for overall health and wellbeing. Healthy teeth and gums play an important part in your ability to smile, eat, speak and socialize.
Free basic and necessary dental care is available to children and teenagers until they turn 18. Call 0800 TALK TEETH (0800 825 583) to find out more.
Parents should check their children's teeth regularly. Lift the lip every month to check for signs of tooth decay (holes).
Tips for taking good care of your teeth
Taking care of your teeth and gums is not difficult or time-consuming – it only takes 5 minutes a day for adults, and 2 minutes for children! Daily brushing and flossing are the two most important ways of effectively removing plaque.
Here are some tips for taking good care of your teeth:
Brush teeth twice a day – after breakfast and before going to sleep at night.
Use regular-strength fluoride toothpaste – a smear for children under 6 years and a pea-sized amount for older children.
Spit out toothpaste but do not rinse. Rinsing strips off protective fluoride left behind from the toothpaste.
Have regular dental check-ups. This way you can treat any problems early and reduce considerable time, stress and cost.
Floss daily. Children should start to floss from age four – parents will need to do this for their child to start with.
Replace your toothbrush every three months or soon after the bristles start to wear out.
What we eat and drink affects the health of our mouth
Tooth-friendly foods and drinks are also those that are recommended for overall general health. Frequent consumption of high sugar containing foods and drinks can contribute to tooth decay.
Sweet foods that stick to teeth for long time such as dried fruit products, chocolates, or those sweet foods that are kept in the mouth for a long time such as lollipops, are also particularly harmful for teeth.
You can do the following to help maintain healthy teeth:
Consume a diet high in fruits, vegetables and wholegrain starchy foods and low in sugars and fat;
Reduce how often and how much sugar you eat by selecting healthy nutritious snacks such as fruit pieces, cheese, chopped vegetables and sandwiches;
Avoid eating sugary foods in between meals. Sweet sticky foods are best eaten at mealtimes rather than between meals;
Drink water or milk instead of acidic and sugary drinks such as fruit drinks, fruit juices, cordials, soft drinks and sport drinks. These acidic and sugary drinks are not recommended for infants and toddlers; and
Quit or decrease smoking, or recreational drug use.
Source: NZ Dental Association (NZDA) website.
Walk2Work Day
10 February 2021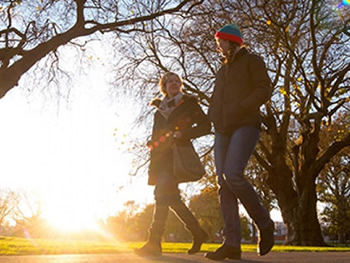 Walk2Work Day (10th March 2021) is New Zealand's day to celebrate walking. You can walk almost anywhere, at any time, in any weather for free.
You could walk to catch a bus or ferry for your health, and the health of our planet. Research reported in the British Medical Journal showed that walking and catching the bus, train or ferry keeps you fitter than using a car.
You are also invited to treat yourself and take your favourite walk on this day, or join others at your local council event.
Check your local council website for more information on Walk2Work Day events near you.
The benefits of making a walk part of your commute
It's easy and starts with one step – walk 1000 metres, about 1300 steps or 12 minutes and you will:
Gain energy and improve balance and coordination;
Improve your mental health and wellbeing by connecting with your environment and noticing what is around you;
Tone your legs, bum and tum and use up 74 calories (for a 70kg person);
Save $3.62 of health benefits, save 0.72 cents of car costs, and avoid 0.2kgs of carbon emissions;
Reduce your disease risk and improve heart health; and
Be able to socialise with friends and community on the way.
Walk more by:
leaving the car at home and making the journey to work on foot or combining with using the bus or train;
walking to run errands at the local shops;
walking the kids to school;
using the stairs instead of the lift;
making it social by walking with someone else – like a walking meeting or catch-up ;
walking to talk a colleague instead of sending an email; or
aiming for 30 minutes a day – or 10,000 steps if you're using a pedometer.
Adapted from the Living Streets Aotearoa website.
Take the Fizz Free Whānau Challenge!
19 January 2021
Start 2021 off right by fazing out the fizz! Take the one-month challenge to ditch the fizz this February, and join hundreds of other Kiwis doing their bit for their own hauora.
You'll be provided support to try healthier alternatives when you join the challenge, as well as receiving tips, tricks, and other information so that you can start the year feeling your best and with healthier habits.
Giving up sugary drinks will not only improve your health but will also help support healthy environments through waste reduction!
The Fizz Free Whānau Challenge is organised by Fizz Free Whānau (FFW) who are all about supporting whānau to live healthy happy lifestyles.
Why you should go fizz free
We need to deal with the fizz if we're going to turn the tide on obesity and obesity-related health issues.
15 percent of Māori and 30 percent of Pasifika tamariki are obese – compared with 11 percent of the general population. Each serving of sugary drink by tamariki and rangatahi (including juices and flavoured milk) increases their risk of obesity by 60 percent.
Even sugar-free fizzy drinks contain acid that can harm teeth and cause decay.
Consumption of sugary drinks is linked to obesity, diabetes, hypertension, tooth decay and many other health problems.
You'll feel benefits like improved energy and focus by going Fizz Free.
Source: Fizz Free Whānau website.
Aotearoa Bike Challenge: Let's get more people riding!
30 November 2020
The New Zealand Transport Agency wants to boost cycling all across the country again this summer. It's a great time to ride bikes in NZ with tailored guidance and tips, a friendly workplace competition, and lots of great prizes on offer.
Join the Aotearoa Bike Challenge today! This is a fun, free challenge to encourage you and your colleagues to experience first hand joys and benefits of riding a bike. There will be lots of fantastic prizes on offer to tempt your team.
It's all about participation – which teams and workplaces can get the most people to ride a bike for just 10 minutes or more? Organisations across the country will compete against each other to see who can get the most staff to ride a bike during the month of February 2021.
It's not about who can ride the most kilometres, but who can encourage the most people to give bicycling a try. The teams which get the highest percentage of their staff riding for their size category will win.
There will also do a prize draw for each trip you ride. So the more you ride in February, the more chance you have of winning a prize. You can earn more chances at individual prizes for encouraging others to ride.
This is also an opportunity to try out the cycleways in your area – contact from your city or district council for more information.
Page last updated: 23/04/2018