November is Diabetes Action Month
Kiwis are being asked to Step for Diabetes during Diabetes Action Month. It aims to bring New Zealanders together to take action for our country's largest and fastest growing condition.
There are so many ways to step up and support New Zealanders living with diabetes and their whānau during Diabetes Action Month, including: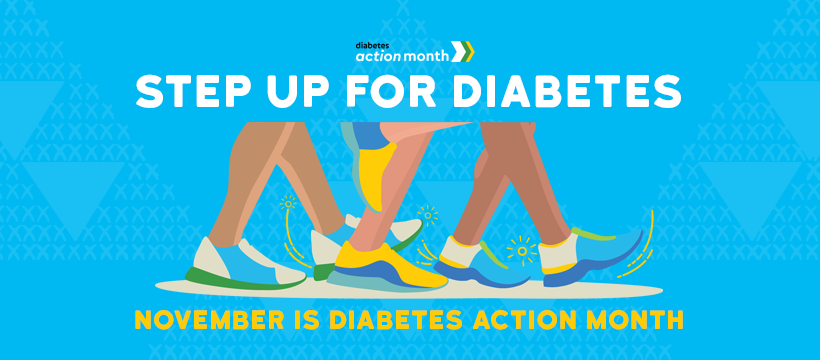 Find out more about diabetes
More than 257,000 New Zealanders now live with diabetes. Also a significant number of people in New Zealand now have pre-diabetes. Every day 50 more people are diagnosed with diabetes.
Diabetes is diagnosed when a person has too much glucose (sugar) in the blood. This happens because the pancreas cannot make enough insulin to keep blood glucose levels in the normal range.
Diabetes cannot presently be cured but it can be controlled and you can lead a full and active life.
Visit the Diabetes New Zealand website for more information about diabetes.
You could be at risk of developing Type 2 diabetes if you:
Are European descent aged 40 years or older.
Have diabetes in your family (grandparents, parents, brothers or sisters).
Are Maori, Asian, Middle Eastern or Pacific Island descent aged 30 years or older.
Have high blood pressure.
Are overweight – especially if you carry most of your weight around your waist.
Are diagnosed as having pre-diabetes or impaired glucose tolerance. This occurs when the glucose (sugar) in your blood is higher than normal, but not high enough to be called diabetes.
Gave birth to a large baby weighing more than 4kg (9lbs).
Had high blood glucose (hyperglycaemia) or diabetes during pregnancy.
Have had high blood glucose in the past.
Take an online test to find out if you are at risk of type 2 diabetes.
Fortunately up to 70 percent of cases of type 2 diabetes could be prevented through the adoption of a healthy lifestyle. 70 percent of premature deaths among adults are largely due to behaviour initiated when they were teenagers.
There are some changes you can make to try and avoid type 2 diabetes developing, including:
Stay physically active and get regular exercise – aim for at least 30 minutes of moderate physical activity each day. Remember you don't have to do all of your daily exercise at once.
Eat healthy food.
Keep your weight in a healthy range.
Get more information about type 2 diabetes (HealthInfo Canterbury).
Source: Diabetes New Zealand website.
Published on Wednesday, October 27th, 2021, under
Uncategorised
Page last updated: 01/12/2021