Canterbury air to get fresher with smokefree outdoor dining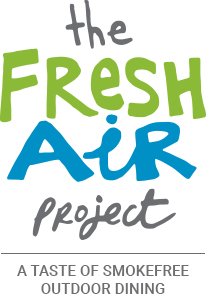 Twenty Canterbury hospitality venues will be making their outdoor spaces smokefree from Tuesday 1st November as part of a pioneering pilot.
Martin Witt from the Cancer Society says New Zealand's first smokefree outdoor dining pilot will allow Cantabrians and visitors to experience the benefits of smokefree outdoor dining.
"Food tastes better, and being outside is nicer, when you don't have smoke around you," says Mr Witt. "Second hand smoke isn't just unpleasant. It poses a real health risk which customers and hospitality staff shouldn't have to be exposed to. The vast majority of Cantabrians don't smoke – around eighty-five percent, and our research shows that they want to be able to enjoy outdoor dining without the smoke."
The twenty hospitality venues participating in the Fresh Air Project are:
Addington Coffee Co-operative
Antigua Boatsheds
Café 186
Café Metro St Albans
Café Metro Ferrymead
Café Metro Merivale
Coffee Culture Merivale
Coffee Culture Sumner
Emperor's New Clothes
Ilex Café at the Botanical Gardens
Joe's Garage Sumner
Laneway Espresso
Local at Riccarton House
Lone Star Papanui
Oddfellows
Raspberry Café
Robert Harris Rolleston
Savoire Café and Wine Bar
The Tea House
Under the Red Verandah
Martin Witt congratulated the twenty hospitality venues for getting involved and supporting a smokefree future. "We were initially concerned that hospitality venues might be reluctant to get on board, but the opposite was true. The venue owners we spoke to really 'got it'.  They could see the benefits that being involved would provide to both their customers and their bottom line," says Mr Witt.
Smokefree outdoor dining has many benefits
Mr Witt says the benefits of smokefree outdoor dining doesn't just extend to customers and hospitality staff. "When cafes and restaurants went smokefree indoors in 2004 sales increased and we're confident that the same thing will happen this time. We believe the fresh air will attract more families, and improve the overall dining experience. We know that the more smokefree environments there are, the easier it is for smokers to stop smoking. Most smokers want to quit, and being in a smokefree environment reduces the triggers of those trying to do so."
Stuart Winter is the owner of Laneway Espresso and says being involved in the pilot is an opportunity to change society for the better. "Everyone knows the health risks that come from smoking. We've joined the pilot because we want to be part of the solution," says Mr Winter. "As a café owner you're always concerned about whether things will be good for business or not, but sometimes you just need to trust your instincts that what you're doing makes sense. This is the right thing to do," says Stuart.
The Christchurch Council also supports the Fresh Air Project
Christchurch City Councillor Glenn Livingstone says the pilot is a significant step towards the national goal of a smokefree New Zealand by 2025. "It would be great if our next generation didn't smoke, and this pilot takes us closer to that reality. Children copy what they see. So the less we expose our children to smoking, the less likely they will be to take up the habit," says Mr Livingstone. "Having smokefree outdoor spaces will also help make Christchurch the world's most liveable city."
The Fresh Air smokefree outdoor dining pilot will run for six months until the end of April 2017. It will be evaluated by Community and Public Health.
Source: Canterbury Cancer Society media release (31st October 2016).
Published on Monday, October 31st, 2016, under
Uncategorised
Page last updated: 10/01/2017