About us:

e pā ana ki a matou
Want to work for an organisation committed to providing the best public health services possible?
Community and Public Health in South Canterbury (Timaru)
The South Canterbury region covers the area between the Rangitata and Waitaki rivers. It includes the Timaru, Waimate and Mackenzie Districts.
The region's population of more than 61,500 is mostly Pakeha. However it is becoming more culturally diverse with 7 percent Maori, 2.5 percent Asian and 1.1 percent Pacific people.
Many people in the region are aged over 65 years (20.4 percent). Also nearly 1 in 3 people in South Canterbury live in rural areas. This is nearly twice the level as for the rest of New Zealand!
Local Community and Public Health work aligns to the South Canterbury DHB's (SCDHB) strategic priorities. Key focus areas for the work of the Timaru-based staff are:
healthy lifestyles;
child and adolescent health; and
reducing inequalities.
Health Promotion Activities in South Canterbury
WAVE (Well-being and Vitality in Education) is a major public health initiative in South Canterbury. This programme of intersectoral activities aims to create and support healthier environments for local children and young people. WAVE is unique to South Canterbury as it supports and enhances activities across the education sector – ranging from Early Childhood Centres to tertiary providers.
Community and Public Health also works with the South Canterbury DHB to support good oral health. The South Canterbury Child Nutrition and Oral Health Promoter works with the community to create environments that promote good oral health from an early age. This work includes:
Supporting WAVE Early Childhood Centres to promote oral health; and
Providing one-on-one dietary and oral health advice to families of children at high risk for developing dental caries.
Other public health activities in South Canterbury
Health Protection Officers provide assistance on environmental health issues and infectious diseases. They are also involved in biosecurity monitoring at the Port of Timaru, inspections and advice for Early Childhood Centres, and drinking water assessments.
The Timaru office also has a Community Health Information Centre, providing a range of health education resources from the Ministry of Health and other providers.
Consultation opens for Waimate District Council's 2021-31 Draft Long Term Plan
Waimate District Council media release: 9th June 2021
Consultation has now opened for the Waimate District Council's Draft Long-Term Plan for 2021-31, with the district's Mayor strongly encouraging submissions in the coming weeks.
The Consultation Document called "What's Our Future?" will soon arrive in mailboxes throughout the district. It sets out a blueprint for the next decade – outlining major projects and planned expenditure in the near and distant future.
"Keeping rates manageable is always at the forefront of Council's operations. However increased levels of service, infrastructure renewals and contributing factors outside of our control all cost money. Therefore we need residents to help us decide how we will best meet these commitments," Mayor Rowley said.
"It is critical that we continue sustainably growing our district, and we realise Council has a major role in ensuring the quality of life for all residents."
The Mayor, Councillors and Council staff will be hosting Community Chat sessions throughout the district during the consultation period. These sessions will provide ratepayers with a great opportunity to learn more about the LTP and ask any questions:
Monday 21st June (7pm to 8pm) at the Glenavy Hall;
Tuesday 22nd June (5pm to 7pm) at the Waimate Event Centre;
Wednesday 23rd June (11am to noon) at the Waimate Event Centre;
Wednesday 23rd June (7pm to 8pm) at the St Andrews Hall;
Thursday 24th June (1pm to 2pm) at the Cattle Creek Hall; and
Monday 28th June (7pm to 8pm) at the Maungati Hall.
The consultation closes at 4pm on Thursday 8th July 2021.
Say hello to blue bins in the Timaru District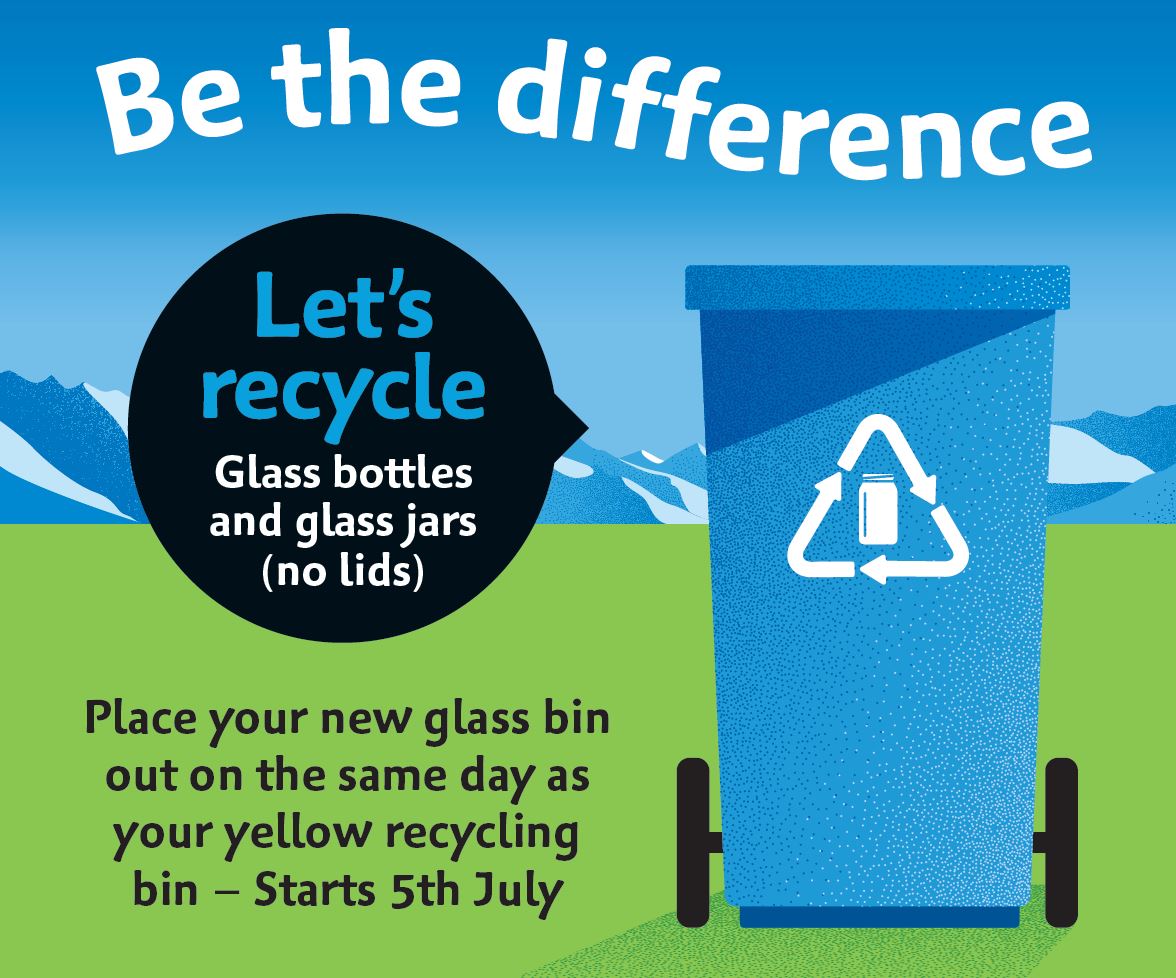 Timaru District Council media release: 12th May 2021
Timaru District Council is beginning the significant process of delivering 22,000 new blue bins as part of its new service from early July.
The new 80 litre blue bins for the separate collection of glass bottles and jars are a new addition to the existing red, yellow and green bins familiar to district residents. The new bins will significantly reduce contamination from broken glass in the yellow recycling bins.
"Separating glass bottles and jars out enables us to send it to a specialist company that will recycle it into bottles for the New Zealand wine industry," says Council Group Manager Infrastructure Andrew Dixon.
"It's really important to remember that although this goes some way to improving our recycling performance, it's really important that we also keep focusing on reducing the other major sources of yellow bin contamination such as unclean or inappropriate items."
Update on Timaru Odour Pilot
Environment Canterbury undertook a pilot project in February 2021 to gather odour information and data in the Washdyke and northern Timaru area. They have now analysed this data and are working with businesses to reduce the impact on residents of odour reaching beyond business boundaries.
---
Links
Page last updated: 14/06/2021